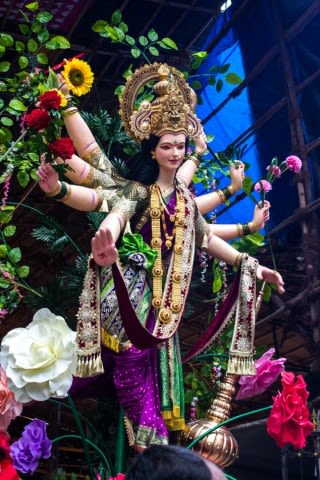 Worship Goddess Saraswati on the auspicious occasion of Basant Panchami to bring her blessings in life: 5th February 2022
Date : 5th February 2022
₹5100 | $69
Worship Goddess Saraswati on the auspicious occasion of Basant Panchami to bring her blessings in life: 5th February 2022
Date : 5th February 2022
Purpose :
Basant Panchami, the birthday of Saraswati who is known as the goddess of learnin also marks the arrival of spring. This festival is celebrated with great devotion in India as well as in northwest Bangladesh and Nepal. Basant connects the special day of Panchami with knowledge and education. It is believed that worshiping Goddess Saraswati on this day brings her blessings.

---
Key Puja Insights
The festival of Basant Panchami is celebrated every year on the fifth day of the Shukla Paksha of Magh month. It is believed that Goddess Saraswati was born on this day. It is believed that with this day, spring begins. On the day of Basant Panchami, Mother Saraswati is worshiped with proper rituals. It is considered auspicious to start a new work on the day of Basant Panchami. This year, Basant Panchami is on 16 February . This day is also known as Shri Panchami or Saraswati Panchami.

---
Benefits of puja
Following are the benefits of observing Basant Panchami
Worshiping Mother Saraswati on this day brings her blessings
Goddess Saraswati bestows a devotee with courage and confidence in life
Worshipping Goddess Saraswati on this auspicious day, brings peace and happiness in life
A devotee gets blessings in the form of knowledge and skills
It ushers devotees lives with ample opportunities and success
---
What's Included
In the eastern provinces of India, on this day, idols of Goddess Saraswati are installed and worshiped in homes. The next day the idol is immersed in the river. There is also a law to wear yellow clothes on Vasant Panchami, worship Saraswati with turmeric and apply tilak to turmeric itself.

---
---
Important Facts
It is also considered auspicious to start any new work on Vasant Panchami. Those who are not getting any Muhurta for home opening ceremony can do it on this day or if someone is looking for an auspicious time to start their new business, then they can start their new business on Vasant Panchami. Similarly, for any other work if anyone is not getting any suitable Muhurta, then he/she can do it on the day of Vasant Panchami.

Our Promises
We take utmost care to ensure that your devotion and reverence reaches God in its true spirit.
Steps we take:
Ensure that the Puja is performed by qualified and experienced pundits only.
Make sure that Puja is performed according to Vedic rituals.
Make use of superior quality 'Samagri' to perform the Puja.
Take Utmost care that the Puja is performed at the correct time (Mahurat) for best results.
Provide support and guidance to our clients at every step.
---
Reviews Akshara Patil
I didn't know the importance of puja, thank you for sharing the wonderful benefits of performing the same. We will continue to follow this ritual. Rao Mukherji
I was going through some unknown fear but the puja which I got it done from this site has relieved me a lot from the fear. Kapil Kansal
After I came to know about the puja that would get me out of the ill effects, we started performing this puja at our home every year. Thank you. Ajay Gupta
Thank you for performing puja on behalf of me. I can see my health improving day by day. Rani Sachdeva
I really thank you for chanting the mantra on behalf of us. We have a sense of satisfaction after this mantra jaap.
---