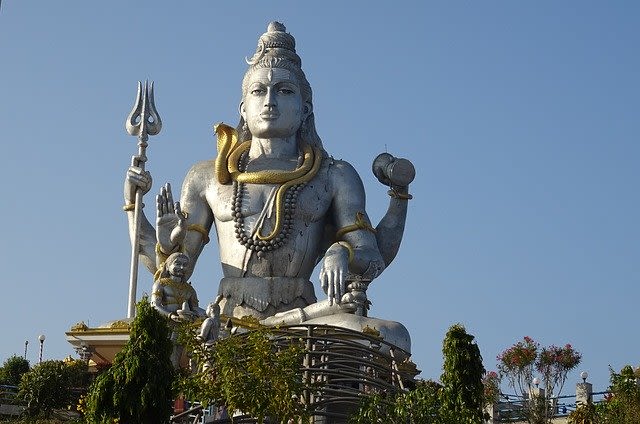 Vivah Badha Nivaran with Shiva Puja on Shravan Somvar
₹5100 | $72
Vivah Badha Nivaran with Shiva Puja on Shravan Somvar
Purpose :
Unmarried men and women perform Shiv puja for marriage and married couples do this to overcome the problems faced in their marital life.
---
Key Puja Insights
Shravan is the auspicious month for Hindus and most of the holy rituals and pujas are organized during this season. It is believed that worshipping Gods during the month of Shravan will quickly appease the almighty and individuals will be immensely blessed.
One of the popular pujas that are performed in this propitious duration is the Vivah Badha Nivaran Puja which is dedicated to Lord Shiva. The favorable day to perform this Shiv puja is Shravan Somvar.
---
Benefits of puja
Observing Shravan Somvar vrat is very beneficial to the performer and his family.
This vrat washes away all the sins of past life
Troubles, pains and suffering will vanish
Performer will be relieved of stress and tension
Positive developments will take place in one's personal and professional life
Unmarried people will get a suitable life partner
Strengthens family bonding
Couples will be blessed with a healthy progeny
---
What's Included
The Vivah Badha Nivaran with Shiv puja must be performed with complete devotion and sincerity on Shravan Somvar. One can perform this puja at temples or at home but it must be performed under the guidance of expert pundits and as per the Vedic rituals.
The performer must take a bath early in the morning and clean the place of worship. Place the idol or images of Lord Shiva and Goddess Parvati on an altar and light a ghee lamp.
Recite Vivah Badha Nivaran mantra
Patni Manorama Dehi Manovrutanusarineem, Tarini Durgasansarasagarasya Kulodevam -- to be chanted by unmarried men
Kalyani Mahamaye Mahayoginadeshwari Nanda Gopasutha Devi Panti Me Karu Ne Namah - should be chanted by unmarried women
Perform Abhishek to Shiva lingam using milk, honey, curd, sugar and ghee. Worship the deities with incense sticks, dhoop, camphor, bel leaves, flowers and offer fruits as prasad to the almighty. Donating food and money to the needy on this day will surely bring in good luck.
---
---
Important Facts
The two supreme deities that is Lord Shiva and Maa Parvati are mainly worshipped during Shravan month. Observing fast on this day is said to easily please Mahadev and his consort thus the performer of the puja will be immensely blessed by both.
Most of the Hindu festivals like Nagpanchami, Raksha Bandhan, Teej and so on are celebrated in the month of Shravan. It is also explained in the mythological scriptures that during this holy month the trinities that is Lord Shiva, Vishnu and Brahma fulfill the wishes of their true devotees.
Our Promises
We take utmost care to ensure that your devotion and reverence reaches God in its true spirit.
Steps we take:
Ensure that the Puja is performed by qualified and experienced pundits only.
Make sure that Puja is performed according to Vedic rituals.
Make use of superior quality 'Samagri' to perform the Puja.
Take Utmost care that the Puja is performed at the correct time (Mahurat) for best results.
Provide support and guidance to our clients at every step.
---
Reviews Ajay Gupta
The puja has really brought in peace and contentment at home. We have started experiencing positivity. Rao Mukherji
I was facing a lot of difficulties in my life and I didn't know what to do. I was not aware of the puja that was supposed to be performed, thanks for guiding us about the puja. Kapil Kansal
I was working very hard but wasn't able to achieve success, and then I came to know about the rituals that are supposed to be followed. Now, I see a change in my career after performing this puja. Mitali Chaturvedi
I was going through some unknown fear but the puja which I got it done from this site has relieved me a lot from the fear. Rani Sachdeva
After we got the puja performed the court case which was prolonged for years came into our favor.
---