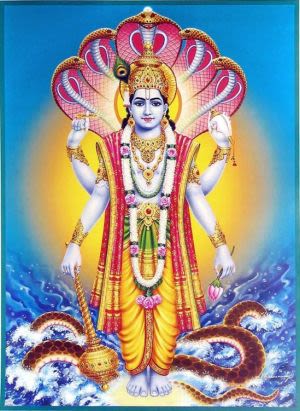 Vishnumantra Jaap
₹21000 | $325
Vishnumantra Jaap
Purpose :
The main purpose of chanting Vishnu mantra Jaap is to promote health and wealth in your household. "Om Namo Bhagavate Vasudevaya" is one of the most simplest Vishnu mantra Jaap that can be chanted daily. The mantra also enhances self-confidence in you and shows the path to success in every front of life.
"Om Vishnu Shri Shri Shri Kaam Bijaaya Fatu" is the powerful Lord Vishnu mantra for success. This mantra can be chanted before you begin any new project or are planning to set up a new business. This Lord Vishnu mantra for success is a powerful Beej mantra from a very famous guru.
---
Overcome problems & get success, happiness and prosperity in life.
Lord Vishnu is one of the principal gods of Hindus, and the "preserver" in the Hindu trinity (Trimurti) that includes Brahma and Shiva.
Like Lord Shiva, Lord Vishnu has also been highly regarded and worshipped with devotion to achieve prosperity and overcome problems and fears. Pleasing the lord, gives all kinds of healthily comforts, upliftment of our inner being and worldly comforts.
Lord's Mantra jaap is done by reciting for 1.25 lakh times to get the full results. However, it can be performed for 31,000 times as well to reap the benefits.
How the Puja is done:
At Astroahead, we ensure that qualified purohits do this puja on your behalf, adhering to the Vedic rituals & system. The detailed procedure is as per the steps below:
1. Swastivachan: Worship of Lord Ganesh at first followed with Mantra recital in praise of Bhagwan Vishnu.
2. Puja is done for all major Gods apart from the Trinity - Bhagwan Vishnu, Brahma and Mahesh.
3. Sankalp: Introduction of the jajmaan - the person who is getting the puja done along with the purpose of the puja.
4. Kalash Pujan as an important and essential part of every puja.
5. Shodash Matrika Pujan meaning Sixteen Devis are invited & worshiped.
6. Navgraha Pujan inviting all the nine planets into the puja and for blessings.
7. Dus Disha Pujan is done so that the jaap is not disturbed from any of the 10 hindu directions.
8. Sarvato Bhadra Pujan is done to invite Lord Vishnu to be part of the puja.
9. Jaap of Lord Vishnu Bhagwan is recited for 31000 times.
10. In the last phase of puja, the Havan is done with the same Mantra jaap.
11. Aarti of Lord is done.
12. All the Brahmins who have performed the puja on your behalf are thanked, respected and given money (dakshina) for their efforts and time.
13. Prasad is couriered at the address shared by you.
14. Videos of the Puja will be available on Youtube
---
Important Facts
Important facts
The ultimate benefit of chanting Vishnu mantra Jaap is the attainment of liberation. One of the best times to chant these mantras as per astrologers is early morning (from 4 am to 6am). You can use a bead rosary to keep the count while reciting the mantras. It is considered to be more fruitful if you chant the mantras for 31,000 times.
Our Promises
We take utmost care to ensure that your devotion and reverence reaches God in its true spirit.
Steps we take:
Ensure that the Puja is performed by qualified and experienced pundits only.
Make sure that Puja is performed according to Vedic rituals.
Make use of superior quality 'Samagri' to perform the Puja.
Take Utmost care that the Puja is performed at the correct time (Mahurat) for best results.
Provide support and guidance to our clients at every step.
---
Reviews Ajay Gupta
I was facing a lot of difficulties in my life and I didn't know what to do. I was not aware of the puja that was supposed to be performed, thanks for guiding us about the puja. Mitali Chaturvedi
I was working very hard but wasn't able to achieve success, and then I came to know about the rituals that are supposed to be followed. Now, I see a change in my career after performing this puja. Kapil Kansal
Thank you for performing puja on behalf of me. I can see my health improving day by day. Akshara Patil
After we got the puja performed the court case which was prolonged for years came into our favor. Trilochan Singh
I really thank you for chanting the mantra on behalf of us. We have a sense of satisfaction after this mantra jaap.
---