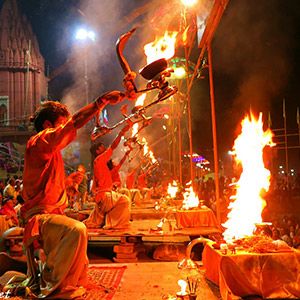 Vishnu Homa at Ganga Ghat, Haridwar on Vaikuntha Ekadashi
₹5100 | $72
Vishnu Homa at Ganga Ghat, Haridwar on Vaikuntha Ekadashi
---
Lord Vishnu is considered as the peace-loving deity of the Hindu Trinity. He is the preserver or the sustainer of life with his steadfast principles of order and truth. It is believed that on Vaikuntha Ekadashi, Vaikuntha Dwaram or gate of Lord's Inner Sanctum is opened, and appeasing Lord Vishnu ensures that you are taken to his Sanctum, and achieves moksha i.e. an end to the cycle of life and death.
At Astroahead, we bring you an amazing opportunity to please Lord Vishnu on Vaikuntha Ekadashi by performing Vishnu Homa or Yagya at Ganga Ghat of Haridwar.
Benefits of Vishnu Homa at Ganga Ghat, Haridwar on Vaikuntha Ekadashi It helps you achieve moksha (end to the cycle of life and death) This yagya helps one to overcome the karmic debts of one's life Overcome malefic effects of planets with the help of Vishnu homa Seekers of peace of mind can get amazing benefits from this homa This homa brings prosperity and abundance in life of the devotees Improve quality of personal and professional life It put an end to familial disputes and brings harmony in life It helps in great financial growth and getting rid of poverty It helps in gaining spiritual knowledge and wisdom
At Astroahead, we ensure that this puja is performed by experts by adhering to all the rules and rituals. This homa or yagya will be exclusively performed on your behalf.
---
Our Promises
We take utmost care to ensure that your devotion and reverence reaches God in its true spirit.
Steps we take:
Ensure that the Puja is performed by qualified and experienced pundits only.
Make sure that Puja is performed according to Vedic rituals.
Make use of superior quality 'Samagri' to perform the Puja.
Take Utmost care that the Puja is performed at the correct time (Mahurat) for best results.
Provide support and guidance to our clients at every step.
---
Reviews Rani Sachdeva
I was working very hard but wasn't able to achieve success, and then I came to know about the rituals that are supposed to be followed. Now, I see a change in my career after performing this puja. Rao Mukherji
The puja has really brought in peace and contentment at home. We have started experiencing positivity. Kapil Kansal
I was going through some unknown fear but the puja which I got it done from this site has relieved me a lot from the fear. Trilochan Singh
After I came to know about the puja that would get me out of the ill effects, we started performing this puja at our home every year. Thank you. Mitali Chaturvedi
I really thank you for chanting the mantra on behalf of us. We have a sense of satisfaction after this mantra jaap.
---