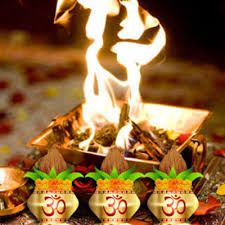 Vastu Puja (with VCD)
₹10000 | $156
Vastu Puja (with VCD)
Purpose :
Vaastu Shanti Puja, chanting the Vastu Jaap Mantra are the remedies for Vaastu dosha.
Vaastu Shanti Puja is held during the Griha Pravesh into a new house or building
It is to be done when you purchase an old house or a building also to remove the adverse effects of Vaastu Dosha. It is done while renovating a home or office.
---
Eradicates Vaastu dosha and energies your property with positivity
Vaastu Puja is a way of praising 5 elements of nature, the deity of directions and other natural forces to create positive energy and build a peaceful atmosphere in and around your home. Vaastu comes into picture when constructing a house or a commercial building. Vaastu enlightens us with what type of location has to be chosen, how the structure of the building should be, how your home should be decorated with. This puja is performed to vanish all negativities of vaastu doshas.
Vaastu Bhagavan is the god of Vaastu science and he has the control over five elements of nature, directions and natural forces. Adoring Vaastu Bhagavan would let peace, happiness, wealth health and safety in the lives of residents living in that house or location.
How does performing Vaastu puja help anyone
As people have started living in apartments where there is very less space and the Vaastu rules are not taken into consideration. This Vaastu puja is carried in order to fight against the negative energy that arises because of the improper Vaastu rules. This puja would work as a shield against the problems that are caused by improper planning and construction issues and regenerates positive energy at home and your property.
This Vaastu puja is generally performed:
When the construction is not legally carried on.
not to have any monetary issues
to find a solution to the irregularities in the rooms and property
on housewarming ceremony
The uses of Vaastu Puja
Vaastu Puja benefits people in many ways like,
1. it purifies the house and energizes every corner with positivity
2. eradicates the bad effects caused by improper Vaastu during construction
3. creates a peaceful environment for all family members
4. fetches good luck and changes your fortune by letting in happiness into the lives of family members
5. showers blessings of Lord Vaastu in your home/property
6. it prevents risks, ensuring the safety of the family members
How is this puja done?
Once Vaastu puja is requested, we send you an online link. By clicking on the link, you can
see our pundits performing the puja live on your screen. We send you the Vaastu Yantra and Panch
Meva.
---
Important Facts
There are five basic elements in the universe like Akash, Prithvi, Jal, Agni, and Vayu. Vaastu Shastra is about bringing all these elements in harmony with each other so that major benefits can be reaped by the occupants of a dwelling. Vaastu Puja can be done as an alternative to space crunch in a house or money crunch you may be facing. Making a few changes in the interior of the house or rearranging a few objects in the room are also very beneficial.
Our Promises
We take utmost care to ensure that your devotion and reverence reaches God in its true spirit.
Steps we take:
Ensure that the Puja is performed by qualified and experienced pundits only.
Make sure that Puja is performed according to Vedic rituals.
Make use of superior quality 'Samagri' to perform the Puja.
Take Utmost care that the Puja is performed at the correct time (Mahurat) for best results.
Provide support and guidance to our clients at every step.
---
Reviews Rani Sachdeva
After we got the puja performed the court case which was prolonged for years came into our favor. Mitali Chaturvedi
I was facing a lot of difficulties in my life and I didn't know what to do. I was not aware of the puja that was supposed to be performed, thanks for guiding us about the puja. Kapil Kansal
I didn't know the importance of puja, thank you for sharing the wonderful benefits of performing the same. We will continue to follow this ritual. Rao Mukherji
After I came to know about the puja that would get me out of the ill effects, we started performing this puja at our home every year. Thank you. Akshara Patil
Thank you for letting us know the immense benefit of performing puja. We are organizing it in our home every year.
---