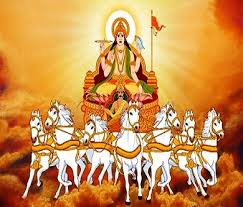 Surya Dosh Nivaran Mantra Jaap - 7000 chants
₹5100 | $80
Surya Dosh Nivaran Mantra Jaap - 7000 chants
---
Surya Dosh Nivaran Mantra Jaap - total 7000 chants
Duration: 1 day
Number of priests: 1
When the sun is placed in an inauspicious location in Horoscope or it's Dasha is running, it can primarily lead to low self-esteem, self-worth and confidence. It also leads to various disorders like eye diseases, heart or nerve disorders etc. Surya Mantra Jaap is advantageous in reducing the influence of negative energies of Sun.
Surya Mantra: "OM HRAM HREEM HRAUM SAH SURYAY NAMAH"
Services offered in Surya Puja include:
Sankalp
Surya Mantra Japa
Surya Homa, Puja as well as Hawan Samigri
Lastly, some Dakshina to Pandit ji.
Advantages of Surya Puja:
Improves self-honor and worth
Provides immense willpower, strength and courage
Defends nerve, heart etc., disorders
To gain blessings from Surya (Sun)
To get rid of other malefic effects of Surya (Sun)
---
Our Promises
We take utmost care to ensure that your devotion and reverence reaches God in its true spirit.
Steps we take:
Ensure that the Puja is performed by qualified and experienced pundits only.
Make sure that Puja is performed according to Vedic rituals.
Make use of superior quality 'Samagri' to perform the Puja.
Take Utmost care that the Puja is performed at the correct time (Mahurat) for best results.
Provide support and guidance to our clients at every step.
---
Reviews Ajay Gupta
I really thank you for chanting the mantra on behalf of us. We have a sense of satisfaction after this mantra jaap. Mitali Chaturvedi
After I came to know about the puja that would get me out of the ill effects, we started performing this puja at our home every year. Thank you. Rao Mukherji
The puja has really brought in peace and contentment at home. We have started experiencing positivity. Kapil Kansal
Thank you for performing puja on behalf of me. I can see my health improving day by day. Rani Sachdeva
I was going through some unknown fear but the puja which I got it done from this site has relieved me a lot from the fear.
---