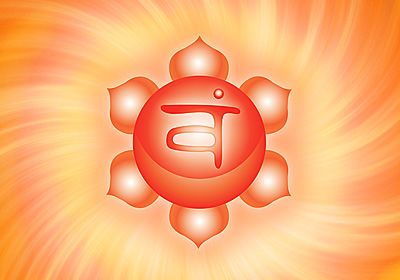 Stimulate your Iccha Shakti and Kriya Shakti with Swadhisthana Chakra Balancing Puja and Mantra Japa
₹16251 | $215
Stimulate your Iccha Shakti and Kriya Shakti with Swadhisthana Chakra Balancing Puja and Mantra Japa
Purpose :
Balancing Swadhisthana Chakra is necessary for prosperous life experience. Balancing of Swadhisthana Chakra helps you improve self-esteem, emotional stability, and maintain healthy relationships. Swadhisthana Chakra Balancing Puja and Mantra Japa are essential to encounter physical as well as mental pleasures in life.

---
Key Puja Insights
Swadhisthana Chakra is the second chakra among the 7 chakras and is also known as Sacral Chakra. This chakra is situated above the Muladhara Chakra or Root Chakra. This Chakra is placed a couple of inches below the navel in the middle of the pelvis in front of the sacrum. Swadhisthana Chakra signifies one's inner self and it is connected with individuality, creativity, satisfaction, and sensuality.
---
Benefits of puja
The benefits of Swadhisthana Chakra Balancing Puja and Mantra Japa are mentioned below:
This puja offers relief from the infirmity that occurred due to Swadhisthana Chakra.
It gives mental strength and upgraded pridefulness in the life of the performer of this puja
A person will be blessed with work that will bring happiness and to life.
One will be capable to establish identity in career, academics, and society.
Swadhisthana Chakra bestows the performer and his/her family with happiness and well-being.
---
What's Included
5 expert Hindu priests will perform the rituals of Swadhisthana Chakra. One should make Sankalp before performing the puja. The Sthapana of Lord Ganesh, Lord Brahma, and Navagraha Kalash is done in this sacred ceremony. Hawan is performed along with Swasti Vachan, Ganesh Puja, Navagraha puja.
All the deities and planets related to the Swadhisthana Chakra are worshipped. The recitation of Beej Mantra VAM for 12,500 times, Ardhanareshwar Stotra for 108 times, Chandra Mantra Japa for 125000 times, Shukra Mantra Japa for 12,500 times, Krishna Gayatri Mantra for 1100 times, Maha Mrityunjaya Mantra for 1100 times takes place in Swadhisthana Chakra Balancing Puja and Mantra Japa. After the completion of this Puja, special food will be served to Brahmins.
---
---
Important Facts
Swadhisthana Chakra is termed as gentleness and one's own dwelling. Swadhisthana Chakra represents the element of water, orange colour, sense of taste, and VAM Mantra. It is also connected with Lord Krishna and Moon. Swadhisthana Chakra has command over innovation, ingenuity, propagation, emotions. The significant energies of Swadhisthana Chakra offer you the ability to experience the pleasure that nourishes your sense of prosperity, happiness, and cleverness, fortune.
Swadhisthana Chakra has strong powers to cure problems like lack of desire, addiction, aggression, sexual problems, jealousy, anger, feeling of guilt, etc. Performing the rituals of Swadhisthana Chakra Balancing Puja and Mantra Japa stimulates two special energies called Iccha Shakti and Kriya Shakti.

Our Promises
We take utmost care to ensure that your devotion and reverence reaches God in its true spirit.
Steps we take:
Ensure that the Puja is performed by qualified and experienced pundits only.
Make sure that Puja is performed according to Vedic rituals.
Make use of superior quality 'Samagri' to perform the Puja.
Take Utmost care that the Puja is performed at the correct time (Mahurat) for best results.
Provide support and guidance to our clients at every step.
---
Reviews Rani Sachdeva
I was going through some unknown fear but the puja which I got it done from this site has relieved me a lot from the fear. Trilochan Singh
Thank you for performing puja on behalf of me. I can see my health improving day by day. Mitali Chaturvedi
After we got the puja performed the court case which was prolonged for years came into our favor. Rao Mukherji
I didn't know the importance of puja, thank you for sharing the wonderful benefits of performing the same. We will continue to follow this ritual. Ajay Gupta
I was facing a lot of difficulties in my life and I didn't know what to do. I was not aware of the puja that was supposed to be performed, thanks for guiding us about the puja.
---