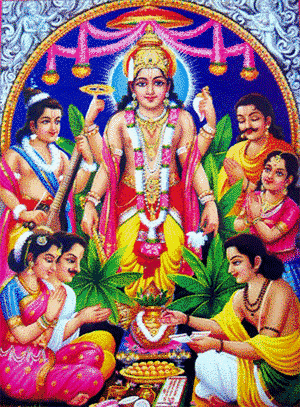 Sri Satyanarayan Puja
₹7375 | $123
---
Lord Sri Satyanarayana is a highly compassionate manifestation of Lord Vishnu. This is a special form assumed by Lord Vishnu to bless his devotees praying to him. The first ever reference to Sri Satyanarayana puja is found in Skanda Purana. A group of rishis performed a huge Yajna sacrifice for a thousand years. Sage Sutha Puranik narrated the stories related to Sri Satyanarayana puja to the sages assembled there. Hence, Sri Satyanarayana puja has a very long history and is enthusiastically performed to get multiple benefits for families. Lord Satyanarayana is a highly compassionate one and is easily pleased with the puja performed by the devotees. Being the savour of the universe, he blesses the devotees with peace and prosperity.

Why Perform Sri Satyanarayana Puja
Once, Sage Narad toured all the worlds finally reaching the Bhulok or the earth. Very strangely wherever he went, he found only sorrows, sufferings, diseases, unhappiness and misery. He was overwhelmed with sadness thinking of the plight of humans and he wanted to find a remedy to the ills of the Kali age and help people escape the sufferings. He reached Vaikunt or the abode of Lord Vishnu and prayed for a remedy. Lord Vishnu said people on the earth can overcome the sufferings of the Kali age by performing a simple but powerful puja called Sri Satyanarayan puja. He also said this puja can be performed on any day by anyone seeking to get the blessings of Lord Satyanarayana. Performing Sri Satyanarayana puja in the prescribed format with the help of purohits can give immense results.

Sri Satyanarayana Puja Benefits
Sri Satyanarayana puja can be performed anytime whenever you want to ease the troubles and enhance happiness and prosperity. However, most importantly, Sri Satyanarayana puja is performed immediately after the housewarming ceremony or marriages. This will ensure that the home is divinely blessed and the prosperity and happiness are multiplied in the new home. Married partners will find peace, harmony and a sense of fulfilment in their married life when this puja is performed. People also perform Sri Satyanarayana puja to remedy incurable diseases, get rid of debts, promote peace and harmony in the home, increase the material comforts and happiness at home, improve financial conditions, and attain success in studies, career or business.

Popular Sri Satyanarayana Puja Mantras
Get Sri Satyanarayana puja performed on your behalf and also keep chanting the following powerful mantras to speed up the results of the puja and get the blessings of Lord Satyanarayana in abundance.

Lord Mahavishnu Mantra
"Dhyayet Satyam Gunatitam Gunatrayasamanvitam
Lokanatham Trilokesham Kaustubhabharanam Harim
Nilavarna Pitavastram Shrivatsapadabhushitam
Govindam Gokulanandam Brahmadyairapi Pujitam"

I meditate on the embodiment of Truth. He has transcended all the three qualities and effectively balances the three propensities in men. The Lord of the world takes care of the three worlds and wears a fragrant garland. The blue hued Lord Hari wears a yellow cloth and has Goddess Lakshmi seated in his chest. Lord Govinda, the joy of Gokul is worshipped by all the gods and Brahma.

Vishnu Gayatri mantra
"Om Naraayanaaya Vidmahe Vaasudevaaya Dheemahi Tanno Vishnu Prachodayaat"
Meaning: I meditate on Lord Narayan and contemplate on Vasudeva. Let Vishnu illumine my intellect.


---
Our Promises
We take utmost care to ensure that your devotion and reverence reaches God in its true spirit.
Steps we take:
Ensure that the Puja is performed by qualified and experienced pundits only.
Make sure that Puja is performed according to Vedic rituals.
Make use of superior quality 'Samagri' to perform the Puja.
Take Utmost care that the Puja is performed at the correct time (Mahurat) for best results.
Provide support and guidance to our clients at every step.
---
Reviews Akshara Patil
Thank you for letting us know the immense benefit of performing puja. We are organizing it in our home every year. Rani Sachdeva
The puja has really brought in peace and contentment at home. We have started experiencing positivity. Kapil Kansal
I was going through some unknown fear but the puja which I got it done from this site has relieved me a lot from the fear. Trilochan Singh
After we got the puja performed the court case which was prolonged for years came into our favor. Mitali Chaturvedi
After I came to know about the puja that would get me out of the ill effects, we started performing this puja at our home every year. Thank you.
---