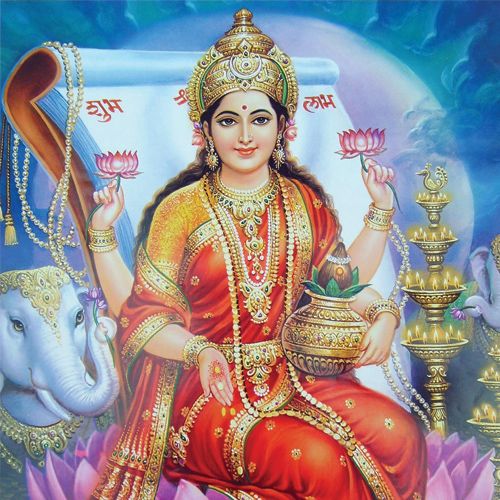 Special worship of Goddess Lakshmi for wealth and prosperity
₹4100 | $63
Special worship of Goddess Lakshmi for wealth and prosperity
---
Mother Lakshmi is the presiding goddess of wealth and opulence. Whose cultivation-worship brings all the happiness in life and the store of wealth whether home or business is always full. Goddess Lakshmi, the goddess of wealth, exists in 16 different forms. Join the special worshiper of the chief of wealth to get the auspicious blessings of Maa Lakshmi and to overcome the shortage of wealth.
Benefits
Attainment of wealth and opulence
Expansion of happiness and prosperity in life
Freedom from all kinds of sufferings and obstacles
Happy marriage and successful family life
Job success
Avoidance of Venus-related hazards
Whats Included
List of Dos and Don'ts that needs to be followed before and during the homam
Link through which you can watch this puja online
Prasad
Siddha Lakshmi Yantra.
Panchmeva

Disclaimer:
Astroahead neither represents the temple authorities or its trustees nor are the manufacturer/seller of Prasad products, but is solely a platform which connects you with certain individuals who shall perform puja ('Service') on your behalf. Accordingly, Astroahead makes no representation or warranties of any kind express or implied as to the execution of the orders at the Temple or the quality or delivery of Service.
To the full extent permissible by applicable law, Astroahead disclaims all warranties, express or implied, including, but not limited to the warranties of quality, service on fitness for a particular purpose.
---
Our Promises
We take utmost care to ensure that your devotion and reverence reaches God in its true spirit.
Steps we take:
Ensure that the Puja is performed by qualified and experienced pundits only.
Make sure that Puja is performed according to Vedic rituals.
Make use of superior quality 'Samagri' to perform the Puja.
Take Utmost care that the Puja is performed at the correct time (Mahurat) for best results.
Provide support and guidance to our clients at every step.
---
Reviews Mitali Chaturvedi
I was working very hard but wasn't able to achieve success, and then I came to know about the rituals that are supposed to be followed. Now, I see a change in my career after performing this puja. Rani Sachdeva
Thank you for letting us know the immense benefit of performing puja. We are organizing it in our home every year. Ajay Gupta
After I came to know about the puja that would get me out of the ill effects, we started performing this puja at our home every year. Thank you. Kapil Kansal
I was facing a lot of difficulties in my life and I didn't know what to do. I was not aware of the puja that was supposed to be performed, thanks for guiding us about the puja. Trilochan Singh
Thank you for performing puja on behalf of me. I can see my health improving day by day.
---