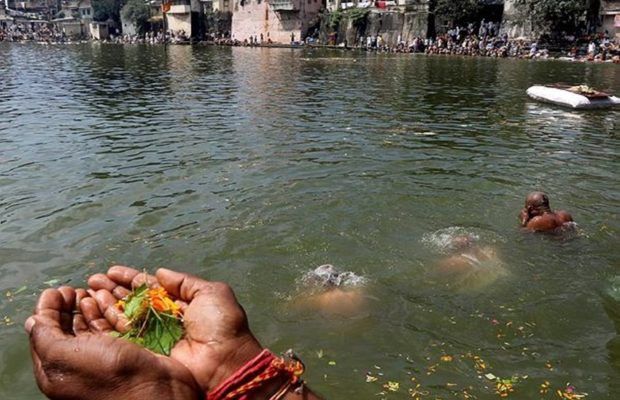 Shradh Puja
₹2478 | $42
Shradh Puja
Purpose :
If Shradh customs are not carried out it is believed that the descendants will be under the influence of Pitr dosh and will face severe hardships in life. So, it becomes very important to perform Shradh puja to pacify those ancestors who have left for their heavenly abode.
---
What Shradh-Pitru Paksha is all about?
Shradh is one of the important rituals in the Hindu tradition. It is a puja performed to give moksha or salvation to our departed ancestors (paternal as well as maternal). It is a way of paying homage, devotion towards our ancestors. Worshipping the dearly departed souls and paying them respect in the presence of God will bless with well-being. It is very helpful in overcoming the effects of Pitr dosh.
At the time of Shradh, Pitra Kriya plays a major role. According to the Garud Purana, Matsya Purana, Vishnu Purana, Vayu Purana and other sacred scriptures as Manu Smriti etc. explains us about Shradh.
The days of Pitru Paksha – The shradh days in 2017
Every year in the month of Ashwin, in Krishna Paksh, i.e. 15 days starting from Purnima (full moon) to Amavasya (dark night) "Shradh" days are monitored. For the year 2017, it is going to start from 5th September 2017 and end on 19th September 2017. Shradh is a ritual performed to please one's ancestors. It is explained in the ancient scriptures that when a person does not perform the Shradh of his departed family member then the person will have to go through lots of sufferings in life.
Garuda Purana states the importance of Shradh
Garud Puraan is one of the ancient religious scriptures and it has clearly mentioned that by performing this puja to the forefathers and departed family members, their souls get pleased and shower their blessings on the person and bestow them with wealth, kids, knowledge, joys, prosperity, pleasures, along with long and healthy life. We have to do this "Shradh" on the day when our ancestors had left us for a heavenly abode that is on their death anniversary. If a person is not aware of the dates of their ancestors' death that person should perform Shradh on new moon day (Amavasya) every month or strictly in the month of Shradh.
Importance of Shradh Chaturdashi Tithi
Ancestors whose death was un-natural like they have died of killing, poisoning or in accidents, their Shradh has to be performed on Chaturdashi and for those ancestors who passed away on the day of Chaturdashi, their Shradh has to be done on Amavasya.
Shradh for people whose death was an Akaal Mrityu - Death before time
If anyone in the family had passed away in an accident or other unnatural reasons, it is called as Akaal Mrityu(death before time) and for those people "Shradh" has to be performed on the last day of Ashwin month i. e., Amavasya.
Remembering loved family members on Shradh Days
Shradh being an important death ceremony is still being neglected by many in the Hindu religion in the present day scenario. The Vedic phrase 'jiva jivasya jivanam' the living beings sustain by feeding on another living being who in turn survives by feeding on another living entity. . . this concept is mostly ignored because of lack of knowledge.
How does Ancestor Puja on Pitru Paksha help?
Conducting this puja for ancestors would fetch good fortune to their family members and be blessed with the positive energies for progress. The lineage gets blessed from the pitra/forefathers in materialistic cases. This would greatly benefit the individual to move ahead in life spiritually as the material obstacles would vanish. This puja has a powerful impact on health and helps in recovering from serious diseases. This will also help in tackling chronic diseases and other body ailments. It is advised that those who are going through serious ailments should get this puja done for early recovery. This puja is will help you achieve success in Business or Career, and keeps you away from ill effects and Enemies.
How to come out of Pitra Dosh through Pitru paksha Puja
The negative effects of Jupiter are also because of pitra dosh. It is not a curse of the departed family member. It is seen in the horoscope of a person because of his previous bad karmas of his forefathers. In other words, he has to bear for those actions that are pre-decided for the karmic deeds. This will keep happening till these karmic debts wash off either by suffering or by the good deeds that are done by the person who is going through the pitra dosha. It is just like a child gets the assets and liabilities of his forefathers, the outcome of the past karmas are also passed on to the family members. To get yourself freed of pitra dosha we have to perform Shradh/pitrapaksh puja on every Amavasya and also in the Shradh days in the month of Ashwin and get benefitted to the greatest possible extent.
Shradh Or Pitru Paksha Puja is a solution for bad effects of jupiter
If Jupiter is the reason behind getting hindered and has a bad effect then one can be sure that his life would be completely ruined in all aspects. The Pitra Dosha generated by the Jupiter, in the horoscope, signifies the sins that were committed by ancestors. Worshipping the deity of the relevant planet that is causing Pitra Dosha in the horoscope of a person is very important to get yourself free of the problems created by them. If this is not done then the impact of Pitra Dosha will keep reflecting in the birth charts of generation to come. Further, the persons who are going through the main and sub-period of Jupiter ( Brahaspati mahadasha and antardasha) are advised to perform the Shradh puja so that amount of suffering or debt is decreased.
Shradh puja reduces the negative effects of Kaal Sarp Dosha
Kaalsarp dosha will be reduced and you will be reaping the fruits by doing the Shradh puja and by obtaining the blessings of ancestors. Couples who do not have kids and people who are facing problems in getting monetary benefits as a result of kaal sarp dosha etc. will be highly benefitted by performing this puja.
What do we gain from Shradh, Pitra Dosha Puja and Daan:
Shradh and Pitra dosha Puja and Daan are highly effective in getting success.
To obtain financial growth and stability
To get a hold of power/immovable property
To improvize the functioning of business
To reduce the ill effects of Jupiter
To obtain Siddhi
For the overall materialistic and spiritual growth
For getting excellent results in academics
Puja consists of:
Individual Puja, Sankalp, Brahmin Bhojan and Dakshina.
Please provide us the below-mentioned details in the query box
1. Your Name, Father's Name and Gotra
2. The complete Name of the person for whom you want to offer Puja
3. Your relationship with him/her.
4. Tithi/Date of Death
after registering to the Puja, the date, time and venue of the puja will be told to the clients via Email. A link shall be provided through which they can see your puja live. For every client, a new puja will be conducted.
The Puja rituals are performed under the guidance of learned priests in strict accordance with Vedic rituals.
Pitru Paksh 2017 Dates
Shradh
Date
Day
Purnima Shradh 2017
September 5
Tuesday
Ptratipada Shradh 2017
September 6
Wednesday
Dwitiya Shradh 2017
September 7
Thursday
Tritiya/Chaturthi Shradh 2017
September 8
Friday
Panchami Shradh 2017
September 9
Saturday
Sashthi Shradh 2017
September 10
Sunday
Saptami Shradh 2017
September 11
Monday
Ashtami Shradh 2017
September 12
Tuesday
Navami Shradh 2017
September 13
Wednesday
Dashami Shradh 2017
September 14
Thursday
Ekadashi Shradh 2017
September 15
Friday
Dwadashi Shradh 2017
September 16
Saturday
Trayodashi Shradh 2017
September 17
Sunday
Chaturdashi Shradh 2017
September 18
Monday
Sarv Pitru Amavasya Shradh 2017
September 19
Tuesday
---
Important Facts
This pious period of Pitru Paksha starts from Bhadrapada purnima and ends on Amavasya of Ashwin month. The last day of the Pitr Paksh that is Amavasya is also called as Sarvapitru Amavasya or Mahalaya amavasya. Those people who do not know the time and tithi of the death of their ancestors can perform shradh puja on Mahalaya Amavasya.
Our Promises
We take utmost care to ensure that your devotion and reverence reaches God in its true spirit.
Steps we take:
Ensure that the Puja is performed by qualified and experienced pundits only.
Make sure that Puja is performed according to Vedic rituals.
Make use of superior quality 'Samagri' to perform the Puja.
Take Utmost care that the Puja is performed at the correct time (Mahurat) for best results.
Provide support and guidance to our clients at every step.
---
Reviews Ajay Gupta
I was going through some unknown fear but the puja which I got it done from this site has relieved me a lot from the fear. Akshara Patil
I was working very hard but wasn't able to achieve success, and then I came to know about the rituals that are supposed to be followed. Now, I see a change in my career after performing this puja. Rani Sachdeva
I didn't know the importance of puja, thank you for sharing the wonderful benefits of performing the same. We will continue to follow this ritual. Rao Mukherji
After we got the puja performed the court case which was prolonged for years came into our favor. Mitali Chaturvedi
Thank you for performing puja on behalf of me. I can see my health improving day by day.
---