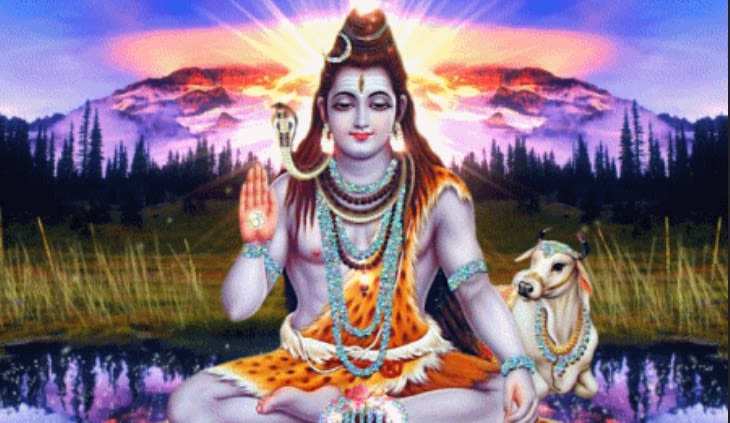 Seek blessings of Lord Shiva with Rudrabhishek in Shravan Month
₹3658 | $61
Seek blessings of Lord Shiva with Rudrabhishek in Shravan Month
---
Shravan, the fifth month of Hindu calendar is one of the auspicious months to worship Lord Shiva. Mondays in Shravan are considered auspicious and are dedicated to Lord Shiva. Observing fast on Mondays of Shravan and performing puja and Rudrabhishek brings peace, prosperity, good health and marital bliss. Devotees are advised to consume vegetarian meal only once in the evening after performing puja. Observing fast and performing puja on Shravan Shivratri helps to get rid of Pitra Dosha. Jalabhishek is performed to please Lord Shiva. Devotees should offer water and uncooked milk, pour it in a brass vessel and offer it to Lord Shiva.

About Puja
Rudrabhishek is performed by different materials for the fulfilment of various wishes.
The materials used include Ganga Jal, Cow milk, Pure ghee, musturd oil and more
According to the scripture, one can get rid of the karma of his past life by performing Rudrabhishek
If you are suffering from health troubles, or anyone in your family is under the effect of negative energies, this puja is very beneficial
Benefits

This puja bestows health, wealth and long life to the devotees

This puja ensures harmonious relations with your loved ones

Appease your malefic planets by performing Rudrabhishek during the month of Savan



Whats Included

A list of dos and don'ts to be followed during and before the puja
This puja will be performed by learned pandits on your behalf
Prasad will be send after the puja
---
Important Facts
Our Promises
We take utmost care to ensure that your devotion and reverence reaches God in its true spirit.
Steps we take:
Ensure that the Puja is performed by qualified and experienced pundits only.
Make sure that Puja is performed according to Vedic rituals.
Make use of superior quality 'Samagri' to perform the Puja.
Take Utmost care that the Puja is performed at the correct time (Mahurat) for best results.
Provide support and guidance to our clients at every step.
---
Reviews Rani Sachdeva
The puja has really brought in peace and contentment at home. We have started experiencing positivity. Trilochan Singh
After I came to know about the puja that would get me out of the ill effects, we started performing this puja at our home every year. Thank you. Mitali Chaturvedi
Thank you for letting us know the immense benefit of performing puja. We are organizing it in our home every year. Rao Mukherji
I really thank you for chanting the mantra on behalf of us. We have a sense of satisfaction after this mantra jaap. Ajay Gupta
I was going through some unknown fear but the puja which I got it done from this site has relieved me a lot from the fear.
---