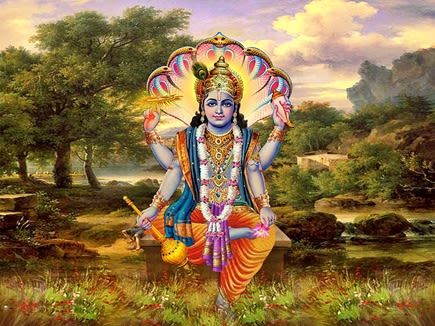 Satyanarayan Katha with Brahman Bhoj
₹5100 | $70
Satyanarayan Katha with Brahman Bhoj
---
Advantages of Satyanarayan Katha with Brahman Bhoj:
It promotes financial prosperity and stability
It helps in achieving power/immovable property
It accelerates and smoothens functioning of the business
It minimizes the malefic effect of afflicted Jupiter
It helps in obtaining siddhi
It ensures overall materialistic and spiritual development
It provides excellent results and higher education
Who should do this puja:
This puja can be done by:

People looking for health, wealth and prosperity in their lives
People who want overall development of their self
Students who want to excel in their life
Prasad:
Energised Vishnu yantra (keep it at your puja place)
Panchmeva
About the Puja:
Lord Sri Satyanarayana is a highly compassionate manifestation of Lord Vishnu. This is a special form assumed by Lord Vishnu to bless his devotees praying to him. The first ever reference to Sri Satyanarayana puja is found in Skanda Purana. A group of rishis performed a huge Yajna sacrifice for a thousand years. Sage Sutha Puranik narrated the stories related to Sri Satyanarayana puja to the sages assembled there. Hence, Sri Satyanarayana puja has a very long history and is enthusiastically performed to get multiple benefits for families. Lord Satyanarayana is a highly compassionate one and is easily pleased with the puja performed by the devotees. Being the savour of the universe, he blesses the devotees with peace and prosperity.

Once, Sage Narad toured all the worlds finally reaching the Bhulok or the earth. Strangely, wherever he went, he found only sorrows, sufferings, diseases, unhappiness and misery. He was overwhelmed with sadness thinking of the plight of humans and he wanted to find a remedy to the ills of the Kali age and help people escape the sufferings. He reached Vaikunt or the abode of Lord Vishnu and prayed for a remedy. Lord Vishnu said people on the earth can overcome the sufferings of the Kali age by performing a simple but powerful puja called Sri Satyanarayan puja. He also said this puja can be performed on any day by anyone seeking to get the blessings of Lord Satyanarayana. Performing Sri Satyanarayana puja in the prescribed format with the help of purohits can give immense results.


Lord Mahavishnu Mantra

"Dhyayet Satyam Gunatitam Gunatrayasamanvitam
Lokanatham Trilokesham Kaustubhabharanam Harim
Nilavarna Pitavastram Shrivatsapadabhushitam
Govindam Gokulanandam Brahmadyairapi Pujitam"




---
Our Promises
We take utmost care to ensure that your devotion and reverence reaches God in its true spirit.
Steps we take:
Ensure that the Puja is performed by qualified and experienced pundits only.
Make sure that Puja is performed according to Vedic rituals.
Make use of superior quality 'Samagri' to perform the Puja.
Take Utmost care that the Puja is performed at the correct time (Mahurat) for best results.
Provide support and guidance to our clients at every step.
---
Reviews Mitali Chaturvedi
I was going through some unknown fear but the puja which I got it done from this site has relieved me a lot from the fear. Rani Sachdeva
The puja has really brought in peace and contentment at home. We have started experiencing positivity. Ajay Gupta
After I came to know about the puja that would get me out of the ill effects, we started performing this puja at our home every year. Thank you. Rao Mukherji
I really thank you for chanting the mantra on behalf of us. We have a sense of satisfaction after this mantra jaap. Akshara Patil
Thank you for letting us know the immense benefit of performing puja. We are organizing it in our home every year.
---