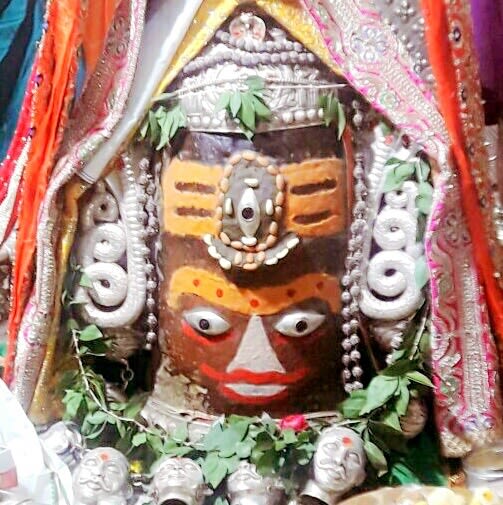 Rudrabhishek Pujan : 14th July to 12th August 2022
Date : 14th July to 12th August 2022
₹25000 | $390
Rudrabhishek Pujan : 14th July to 12th August 2022
Date : 14th July to 12th August 2022
Purpose :
Rudra puja is done to invoke the blessings of Lord Shiva against all evils and attain prosperity.
During Rudrabhishek, each different item that is poured on the Shivling has different significance. When Jal is poured on the Shivling it assures fulfillment of one's desires. Pouring milk gives long life, honey gives us freedom from miseries and misfortunes.
---
What does Abhishek mean?
Abhishek is the way of pleasing Lord by pouring holy things like water, milk, sugar, honey, and flowers. Prayers are offered. Abhishek is the best way to please your favourite lord.
Rudrabhishek is done by pouring holy materials over Shivlinga and at the same time chanting the mantras from a particular holy scripture. It is not only performed to Lord Shiva but for the complete Shiva parivar that includes Maa Parvati or Gauri, Ganesh ji, Kartikey and Nandi Bail.
Why should we do Rudrabhishek:
Rudrabhishek is done to fulfill our wants, desires and for other reasons.
1) To earn money
2) To get a good job
3) To tackle negative minded people in office
4) To be blessed with kids and have a family
5) To be cured of diseases
6) To control your opponents
7) To have a good name and fame in the society.
Various ingredients are used in performing Abhishek. For instance, to earn money, Abhishek is performed with sugarcane juice, for having kids Abhishek is performed with milk and ghee. To get your diseases cured Puja is done with water and a special kind of grass. For getting hold of power than your opponents, sarson tel is used. And for getting good name and fame, panchamrit is poured.
---
Important Facts
It is believed that Lord Shiva is called as Rudra because of the fierce Rudra Tandav dance that he performs in the cremation grounds. Rudra is the angry and destructive side of Shiva. It becomes necessary to destroy to renew when the sins increase. So Rudra relieves mankind from the sins and gives new beginnings.
Rudram or Om Namaha Shivaya is a very powerful mantra to ward away all evils and bring in positivity around us.
Our Promises
We take utmost care to ensure that your devotion and reverence reaches God in its true spirit.
Steps we take:
Ensure that the Puja is performed by qualified and experienced pundits only.
Make sure that Puja is performed according to Vedic rituals.
Make use of superior quality 'Samagri' to perform the Puja.
Take Utmost care that the Puja is performed at the correct time (Mahurat) for best results.
Provide support and guidance to our clients at every step.
---
Reviews Rao Mukherji
After we got the puja performed the court case which was prolonged for years came into our favor. Rani Sachdeva
I was facing a lot of difficulties in my life and I didn't know what to do. I was not aware of the puja that was supposed to be performed, thanks for guiding us about the puja. Ajay Gupta
After I came to know about the puja that would get me out of the ill effects, we started performing this puja at our home every year. Thank you. Mitali Chaturvedi
The puja has really brought in peace and contentment at home. We have started experiencing positivity. Trilochan Singh
I was going through some unknown fear but the puja which I got it done from this site has relieved me a lot from the fear.
---