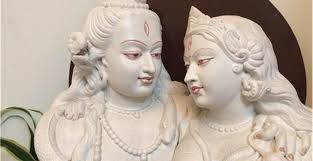 Puja for everlasting love
₹3658 | $61
Puja for everlasting love
---
Uma Maheshwar Puja on eve of Valentine day is able to accomplish a purpose for people who are looking for love in their life and are looking for desired partner. This puja is the most powerful way to remove all known & unknown obstacles in love life and help to marry quickly. It helps in improving the understanding and in avoiding break up with the beloved.
It is believed that the lord maheshwara is the god of mercy and compassion and protects its devotees from the evils and negative forces present in the world. He showers prosperity, happiness and wisdom on his devotees. Goddess parwati is believed to grant boon of saubhagya to natives and removes the hurdles coming in the path of their love life or in getting married or problems in marital life.
Uma Maheshwar puja creates an emotion of a strong affection and personal attachment and sparks off the unselfish loyal and benevolent concern for the good of another. Love is universal, it is not only limited towards one's self or other humans or animals but it can be for each and every God's creation.
Love and Marriage fail due to various causes. Sometime it's because of enemies, some time because of lack of compatibility and sometime due to situation. The purpose of puja performed by Astrospeak is to remove the factors causing splits between the lovers and helps in improving positive vibration which increases love between them.
---
Our Promises
We take utmost care to ensure that your devotion and reverence reaches God in its true spirit.
Steps we take:
Ensure that the Puja is performed by qualified and experienced pundits only.
Make sure that Puja is performed according to Vedic rituals.
Make use of superior quality 'Samagri' to perform the Puja.
Take Utmost care that the Puja is performed at the correct time (Mahurat) for best results.
Provide support and guidance to our clients at every step.
---
Reviews Mitali Chaturvedi
I didn't know the importance of puja, thank you for sharing the wonderful benefits of performing the same. We will continue to follow this ritual. Ajay Gupta
After we got the puja performed the court case which was prolonged for years came into our favor. Rani Sachdeva
I really thank you for chanting the mantra on behalf of us. We have a sense of satisfaction after this mantra jaap. Akshara Patil
Thank you for letting us know the immense benefit of performing puja. We are organizing it in our home every year. Rao Mukherji
The puja has really brought in peace and contentment at home. We have started experiencing positivity.
---