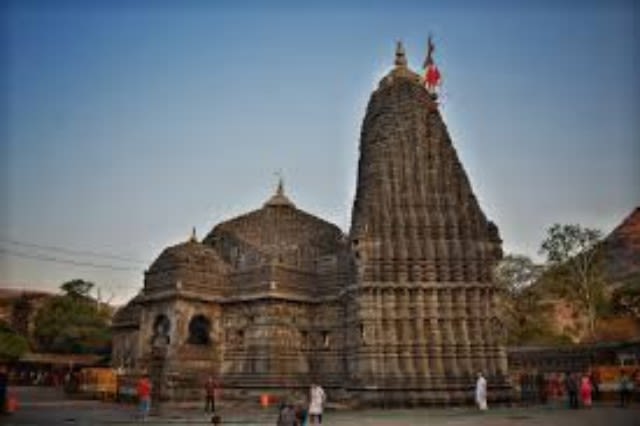 Puja at Trimbakeshwar Temple to lead a happy and peaceful life
₹5100 | $71
Puja at Trimbakeshwar Temple to lead a happy and peaceful life
Purpose :
Devotees conduct the various rituals at Trimbakeshwar Temple to attain salvation in life. Pitru Dosh Nivaran is performed at Trimbakeshwar Temple to attain relief from the ancestral curse. The rituals of Narayan Nagbali are performed here to get rid of the sin of killing the snake. When all planets come between the planet Rahu and Ketu, Kalasarpa Dosha occurs in one's horoscope which can be solved by performing the rituals of Kaalsarp Shanti at Trimbakeshwar Temple. The rituals of Tripindi Shradh is performed at the Trimbakeshwar temple to remove the pitrutva of one's ancestry. In Rudra Abhishek, the Panchamrut Puja is offered with powerful mantras to Lord Trimbakeshwar.

---
Key Puja Insights
Trimbakeshwar temple is a divine place dedicated to Lord Shiva and is one of the twelve Jyotirlingas. This ancient temple is located in Trimbakeshwar, Nashik, Maharashtra. The importance of doing Lord Shiva Puja and other religious rituals at Trimbakeshwar Temple is mentioned in ancient scriptures. This temple is highly recommended to perform the rituals of Kaalsarp Shanti, Narayan Nagbali, Tripindi Shradh, Rudrabhishek, and Pitru Dosh Nivaran.

---
Benefits of puja
Some of the important benefits of performing Puja at Trimbakeshwar Temple are written below:
A devotee attains liberation from sins that are performed in past life.
The problems created by an ancestral curse will wash away with the Pitru Dosh Nivaran puja here
The devotee will be pardoned for the sin of killing a snake by performing Narayan Nagbali.
The observance of Kalasarpa Dosha puja at Trimbakeshwar offers relief from planetary effects in the horoscope.
All the wishes of the devotee will be fulfilled with Rudrabhishek in this temple.
---
What's Included
The divine rituals of Puja are performed by expert Hindu Priests based on Vedic rituals at the Trimbakeshwar Temple. The holy rituals of Puja will be organized at a specific period of time. Lord Shiva, Lord Brahma, and Lord Vishnu are worshipped while performing the rituals of particular Puja.

---
---
Important Facts
Trimbakeshwar temple is a source of holy river Godavari. It is the only temple in India where the rituals of Pitru Dosha Nivaran are performed. Three Lingas are placed in this temple which is called Trimbaka or Trayambaka. These three Lingas are symbolized as Lord Brahma, Lord Vishnu, Lord Mahesh. These three Lingas are also recognized as three eyes of Lord Shiva. It is also believed that these three lingas represent the sun, moon, and fire. One can worship all three gods at once by performing Puja at Trimbakeshwar Temple which will lead a devotee's life to salvation.

Our Promises
We take utmost care to ensure that your devotion and reverence reaches God in its true spirit.
Steps we take:
Ensure that the Puja is performed by qualified and experienced pundits only.
Make sure that Puja is performed according to Vedic rituals.
Make use of superior quality 'Samagri' to perform the Puja.
Take Utmost care that the Puja is performed at the correct time (Mahurat) for best results.
Provide support and guidance to our clients at every step.
---
Reviews Akshara Patil
Thank you for performing puja on behalf of me. I can see my health improving day by day. Mitali Chaturvedi
I was facing a lot of difficulties in my life and I didn't know what to do. I was not aware of the puja that was supposed to be performed, thanks for guiding us about the puja. Trilochan Singh
Thank you for letting us know the immense benefit of performing puja. We are organizing it in our home every year. Rao Mukherji
I really thank you for chanting the mantra on behalf of us. We have a sense of satisfaction after this mantra jaap. Kapil Kansal
I was going through some unknown fear but the puja which I got it done from this site has relieved me a lot from the fear.
---