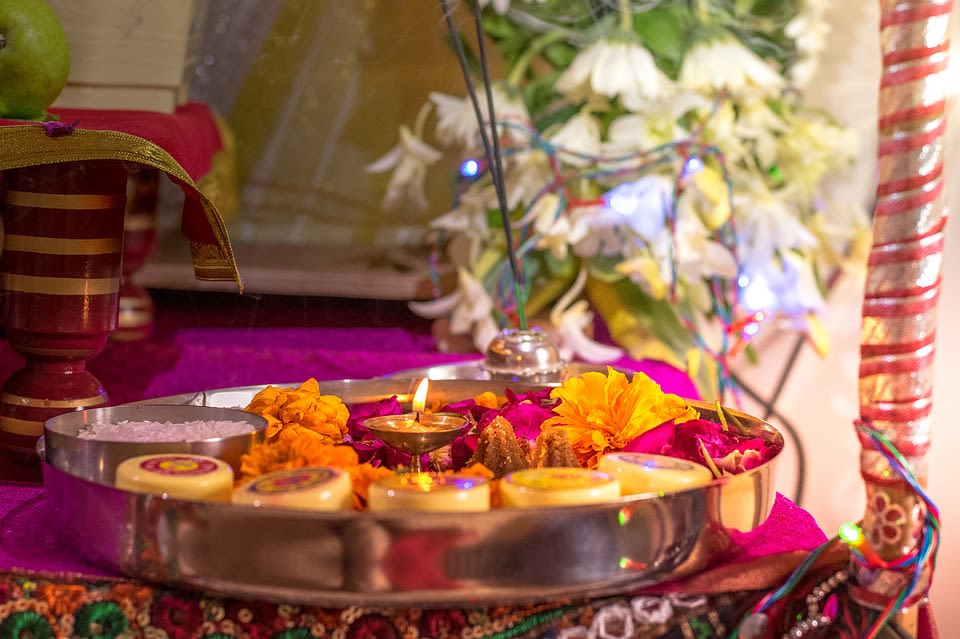 Perform Vishnu Sahasranamam Puja to get rid of the sorrows and pains of life
₹5100 | $69
Perform Vishnu Sahasranamam Puja to get rid of the sorrows and pains of life
Purpose :
According to astrology, the weakening of Jupiter in the horoscope causes stomach problems. To get rid of this problem, recitation of Vishnu Sahasranamam Puja is highly recommended. It is said that performing the Vishnu Sahasranamam Puja is auspicious even when there is a hindrance in the progeny. Apart from this, it is also performed to get rid of obstacles in marital life.

---
Key Puja Insights
Lord Vishnu is considered the innovator of the world. Vishnu's greatest praise is considered Vishnu Sahasranamam. The holy recitation of Vishnu Sahasranamam takes place under the divine rituals of Vishnu Sahasranamam Puja. According to the scriptures, worshiping Lord Vishnu makes life easier. A thousand names of Lord Vishnu are mentioned in the Vishnu Sahasranamam. It is believed that the recitation of this holy hymn solves the problems that are encountered in life.

---
Benefits of puja
Take a look at the benefits of Vishnu Sahasranamam Puja
Performing Vishnu Sahasranamam Puja removes pain, sorrows, and sufferings of life
It fulfills a performer's life with never-ending harmony and happiness
This Puja bestows performs with prosperity and longevity
It cures all the problems related to the stomach
The holy rituals of Vishnu Sahasranamam Puja bless a performer with a healthy progeny
---
What's Included
Meditate Lord Vishnu before and after starting Vishnu Sahasranama Puja. Perform the rituals of Vishnu Sahasranama by wearing yellow clothes or wearing a yellow shawl. Use the jaggery and gram or yellow sweets in the offerings. Consuming salt in the evening after performing this Puja is strictly prohibited. Satvik food should be eaten on the day of this Puja.
Vishnu's meditation mantra is mentioned Below:
"Shantakaram bhujagasayanam padmanabham suresham vishvadharan gaganasadrasham meghavarna shubhagamam. Lakshmikantam kamala nayanam yogibhirdhyanagyamam vande vishnu bhavabhayaharam sarvalokakanatham."
---
---
Important Facts
It is said of Lord Vishnu that by taking his name, one gets rid of the chain of birth and death. Lord Vishnu is considered the guardian of this world. It is believed that each and every happiness of the world is attained by worshipping Lord Vishnu with the help of Vishnu Sahasranamam Puja. Astrologers believe that the recitation of Vishnu Sahasranama Stotra strengthens the planet Jupiter in the horoscope. Also, every planet and constellation can be controlled by the verses that are recited in the Vishnu Sahasranamam Puja.
Lord Vishnu should be worshiped with a complete method of Vishnu Sahasranamam Puja to obtain his divine grace. The recitation of Vishnu Sahastranamam Stotra is considered the most important chanting to please Lord Vishnu. If a person is constantly distracted by the failures, enemies are dominating, many problems are being faced one after the other, then that person should perform Vishnu Sahasranama Puja with full utmost faith and devotion. It is believed that performing Vishnu Sahastranam Puja on Thursday reduces all pain and troubles from life.
Our Promises
We take utmost care to ensure that your devotion and reverence reaches God in its true spirit.
Steps we take:
Ensure that the Puja is performed by qualified and experienced pundits only.
Make sure that Puja is performed according to Vedic rituals.
Make use of superior quality 'Samagri' to perform the Puja.
Take Utmost care that the Puja is performed at the correct time (Mahurat) for best results.
Provide support and guidance to our clients at every step.
---
Reviews Rani Sachdeva
The puja has really brought in peace and contentment at home. We have started experiencing positivity. Kapil Kansal
I was working very hard but wasn't able to achieve success, and then I came to know about the rituals that are supposed to be followed. Now, I see a change in my career after performing this puja. Trilochan Singh
I was facing a lot of difficulties in my life and I didn't know what to do. I was not aware of the puja that was supposed to be performed, thanks for guiding us about the puja. Rao Mukherji
Thank you for performing puja on behalf of me. I can see my health improving day by day. Akshara Patil
I didn't know the importance of puja, thank you for sharing the wonderful benefits of performing the same. We will continue to follow this ritual.
---