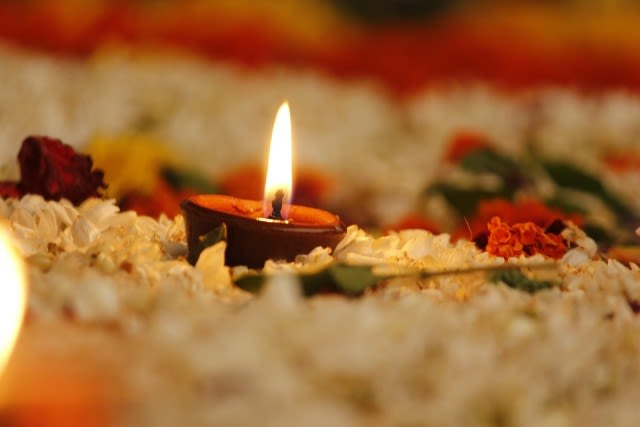 Perform the holy rituals of Lakshmi Narayan Puja to get fulfill all the wishes and desires of life
₹5100 | $69
Perform the holy rituals of Lakshmi Narayan Puja to get fulfill all the wishes and desires of life
Purpose :
Lord Narayan and Goddess Lakshmi are worshipped together with the help of Lakshmi Narayan Puja to get rid of hardship and troubles that have occurred in life. Lord Narayan is called the protector of the world and Goddess Maa Lakshmi is considered the Goddess of happiness, and prosperity. Lakshmi Narayan Puja is performed to attain the holy blessings of Lord Narayan and Goddess Lakshmi. This Puja is mainly performed to attain marital bliss and prosperity in life.

---
Key Puja Insights
According to astrology, Lakshmi Narayan Puja is performed to fulfill the desires of our life. By performing the divine rituals of this Puja, one can attain the holy blessings of Lord Narayan along with the Goddess Lakshmi. It is said that one who performs Lakshmi Narayan Puja obtains longevity, good health, progress, happiness, and victory in life.

---
Benefits of puja
Some of the important benefits of Lakshmi Narayan Puja are given below:
The combined worshiping of Goddess Lakshmi and Lord Narayan through Lakshmi Narayan Puja brings blessings of happiness, wealth, richness, and prosperity
A person archives success in jobs and business
It bestows a person with long life, good health, and spiritual development in life
Keeping in mind the resolution of worshiping while performing Lakshmi Narayan Puja fulfills all the wishes of a person
Performing this Puja with the right method removes all the obstacles and sorrows from a person's life
---
What's Included
Worship the Lord Ganesha before worshipping Lord Narayan and Goddess Laxmi. Offer a bath to Goddess Laxmi and Lord Narayan with the water, then with Panchamrit and once again with water. Offer garments and jewelry to Goddess Lakshmi and Lord Narayan. Offer garlands of flowers and offer fragrant perfumes to Goddess Lakshmi and Lord Narayan.
After this, Put a tilak of Kumkum on the idols of photos of Goddess Lakshmi and Lord Narayan. Put a lamp of ghee or oil and worship the aarti according to the reverence. After the aarti, also do the circumambulation and then offer special food. During the worship of Lakshmi and Narayan, keep chanting "Om Lakshmi Narayanabhyam Namah".
---
---
Important Facts
The festival of Akshaya Tritiya is celebrated every year on Tritiya of Shukla Paksha of Vaishakh month. According to the scriptures of the Hindu religion, the work started from this day, or the donation made on this day is never lost. One can attain an abundance of wealth by performing Lakshmi Narayan Puja and offering white flowers to Lord Narayan and Goddess Lakshmi on this auspicious day.
On the day of performing Lakshmi Narayan Puja, wake up early in the morning and take bath. Wear white or light pink colored clothes after bathing. Make a wheat flour lamp, put pure ghee in it, and burn it in the Lakshmi Narayan temple. After this, chant Om Hrin Shri Klein Lakshmi Narayan Namah mantra with the complete one round Mala that is specially used for chanting purposes. Remember that the face of a performer should be towards the north or east direction while performing the Lakshmi Narayan Puja.
Our Promises
We take utmost care to ensure that your devotion and reverence reaches God in its true spirit.
Steps we take:
Ensure that the Puja is performed by qualified and experienced pundits only.
Make sure that Puja is performed according to Vedic rituals.
Make use of superior quality 'Samagri' to perform the Puja.
Take Utmost care that the Puja is performed at the correct time (Mahurat) for best results.
Provide support and guidance to our clients at every step.
---
Reviews Kapil Kansal
I was working very hard but wasn't able to achieve success, and then I came to know about the rituals that are supposed to be followed. Now, I see a change in my career after performing this puja. Trilochan Singh
I didn't know the importance of puja, thank you for sharing the wonderful benefits of performing the same. We will continue to follow this ritual. Rani Sachdeva
After I came to know about the puja that would get me out of the ill effects, we started performing this puja at our home every year. Thank you. Rao Mukherji
I really thank you for chanting the mantra on behalf of us. We have a sense of satisfaction after this mantra jaap. Akshara Patil
I was going through some unknown fear but the puja which I got it done from this site has relieved me a lot from the fear.
---