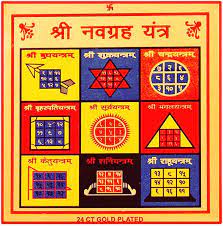 Perform Navagraha Kavacham paath to attain Cosmic Energies
₹4100 | $58
Perform Navagraha Kavacham paath to attain Cosmic Energies
---
Introduction:
Navagraha Kavacham, a sacred hymn dedicated to the nine planetary deities, offers a unique way to balance and harmonize the cosmic energies. This article delves into the profound significance of reciting Navagraha Kavacham, unveiling how it can help mitigate planetary influences, promote well-being, and foster spiritual growth.
Navagraha Kavacham: Shield of Planetary Balance:
Navagraha Kavacham is a powerful hymn that encapsulates the energies of the nine celestial bodies, known as the Navagrahas. It acts as a protective shield, invoking the blessings of each planet and neutralizing their potential negative effects.
Navigating Planetary Influences:
The planets in our solar system have a profound impact on our lives. Navagraha Kavacham is a means to align these planetary energies, ensuring they work harmoniously for our benefit.
The Benefits of Navagraha Kavacham:
Planetary Harmony: Reciting the kavacham fosters harmony among the Navagrahas, helping to mitigate adverse influences and enhance positive ones.
Well-Being and Prosperity: By seeking the blessings of each planetary deity, individuals can experience improved health, prosperity, and overall well-being.
Astrological Benefits: Navagraha Kavacham aids in appeasing planetary doshas and imbalances, as suggested by Vedic astrology.
Spiritual Evolution: Chanting the kavacham opens pathways for spiritual growth and inner transformation, deepening your connection with cosmic energies.
Performing Navagraha Kavacham:
Intentions and Focus: Before beginning, set your intentions for reciting the kavacham. Focus on seeking balance, protection, and well-being.
Sacred Space: Create a serene environment for the practice, preferably in a quiet and clean space.
Devotion and Chanting: Chant the Navagraha Kavacham with devotion and clarity. Feel the vibrations of each mantra resonating within.
Regular Practice: Consistency is key. Consider incorporating the kavacham into your daily routine for optimal benefits.
Inner Reflection: After chanting, spend a few moments in silence, absorbing the energies and reflecting on your intentions.
Conclusion:
Navagraha Kavacham is a potent tool for aligning planetary energies and invoking their blessings. By embracing this practice, individuals can experience enhanced well-being, astrological harmony, and a deeper connection with cosmic forces.
---
Our Promises
We take utmost care to ensure that your devotion and reverence reaches God in its true spirit.
Steps we take:
Ensure that the Puja is performed by qualified and experienced pundits only.
Make sure that Puja is performed according to Vedic rituals.
Make use of superior quality 'Samagri' to perform the Puja.
Take Utmost care that the Puja is performed at the correct time (Mahurat) for best results.
Provide support and guidance to our clients at every step.
---
Reviews Mitali Chaturvedi
The puja has really brought in peace and contentment at home. We have started experiencing positivity. Rao Mukherji
I was working very hard but wasn't able to achieve success, and then I came to know about the rituals that are supposed to be followed. Now, I see a change in my career after performing this puja. Trilochan Singh
I was facing a lot of difficulties in my life and I didn't know what to do. I was not aware of the puja that was supposed to be performed, thanks for guiding us about the puja. Rani Sachdeva
I didn't know the importance of puja, thank you for sharing the wonderful benefits of performing the same. We will continue to follow this ritual. Ajay Gupta
After I came to know about the puja that would get me out of the ill effects, we started performing this puja at our home every year. Thank you.
---