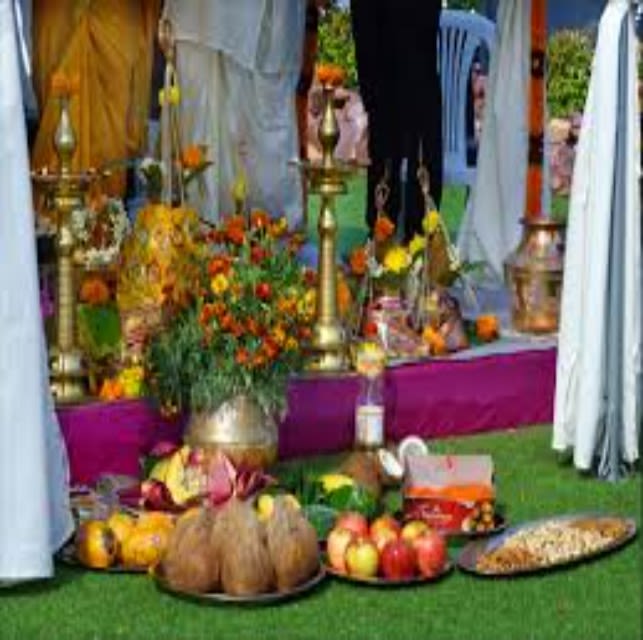 Perform Karya Siddhi Puja to conclude the work in a prosperous way
₹5100 | $71
Perform Karya Siddhi Puja to conclude the work in a prosperous way
Purpose :
The term Karya Siddhi stands for the accomplishment of work in an appropriate way. Karya Siddhi puja is performed before starting new work to ensure a smooth flow in work. A divine Karya Siddhi puja is arranged to eliminate all the obstacles and difficulties that may generate barriers in your work. These holy rituals of Karya Siddhi puja are performed to remove all negative interference in work which are created by enemies and evil deeds.

---
Key Puja Insights
Karya Siddhi puja is observed by worshipping Goddess Laxmi, Goddess Parvati, Goddess Durga, and Lord Ganesha to fulfill life with complete joy and well-being. Performing the sacred rituals of Karya Siddhi puja with great devotion and faith bestows the devotee with success in every path of life. It removes all the hurdles from the path and offers a smooth way to reach great heights in their respective fields.

---
Benefits of puja
Among the endless benefits of performing Karya Siddhi puja, here are some of the major benefits mentioned below:
It blesses the devotee with good luck to complete the work without facing any kind of problem.
It bestows power and strength to overcome all types of difficulties that may come in life.
The performer of this puja will be able to overcome the financial crises faced in his/her life.
The performer will attain good health and abundant wealth in life.
Karya Siddhi puja offers wisdom and knowledge to the devotee.
A devotee will attain popularity in work as well as in society.
---
What's Included
The sacred rituals of Karya Siddhi Puja involve setting up of havan kund, pious utensils, flowers, etc. Hawan Kunda is lited with the help of woods, oil, pure ghee. Learned priest must be consulted and follow the rituals as mentioned in the religious scriptures. Powerful mantras are chanted during the puja to create a positive ambience and drives away the evil spirits that create obstacles in accomplishing any task.
---
---
Important Facts
Offering a holy prayer to Goddess Laxmi, Goddess Parvati, Goddess Durga, and Lord Ganesha by performing Karya Siddhi Puja creates a strong shield that helps to keep away all the negativity. Karya Siddhi Puja vanishes all the negative energies around the devotees and thereby helps in leading a peaceful life. Also, you will see rapid growth in the finances.

Our Promises
We take utmost care to ensure that your devotion and reverence reaches God in its true spirit.
Steps we take:
Ensure that the Puja is performed by qualified and experienced pundits only.
Make sure that Puja is performed according to Vedic rituals.
Make use of superior quality 'Samagri' to perform the Puja.
Take Utmost care that the Puja is performed at the correct time (Mahurat) for best results.
Provide support and guidance to our clients at every step.
---
Reviews Akshara Patil
Thank you for letting us know the immense benefit of performing puja. We are organizing it in our home every year. Rao Mukherji
I really thank you for chanting the mantra on behalf of us. We have a sense of satisfaction after this mantra jaap. Mitali Chaturvedi
The puja has really brought in peace and contentment at home. We have started experiencing positivity. Kapil Kansal
After I came to know about the puja that would get me out of the ill effects, we started performing this puja at our home every year. Thank you. Ajay Gupta
After we got the puja performed the court case which was prolonged for years came into our favor.
---