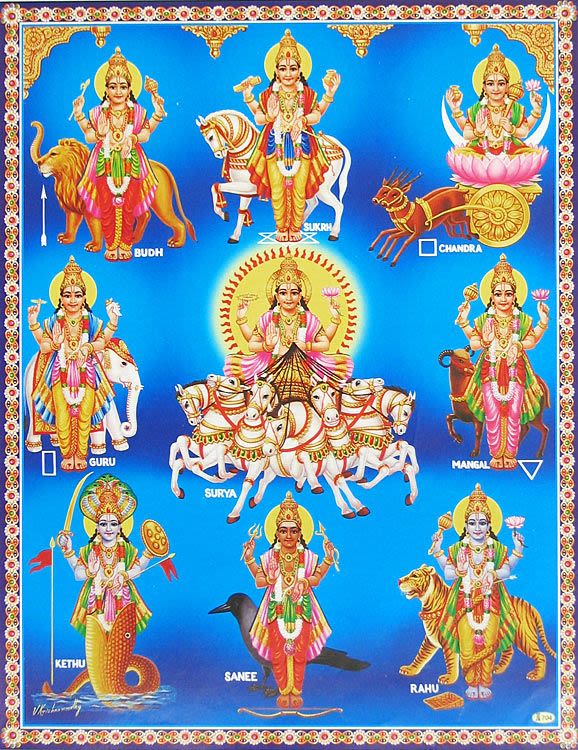 Perform Gayatri Mantras paath for Navagraha to Appease the Planetary Deities
₹5100 | $71
Perform Gayatri Mantras paath for Navagraha to Appease the Planetary Deities
---
Introduction:
Gayatri Mantras, revered as the essence of Vedic wisdom, have the power to appease and balance the planetary forces known as Navagrahas. This article explores the significance of chanting Gayatri Mantras for Navagraha, offering insights into how this practice can mitigate negative planetary influences, foster positive outcomes, and bring about spiritual transformation.
Gayatri Mantras:
Divine Vibrations of Light and Wisdom: The Gayatri Mantra is a timeless invocation that encapsulates the cosmic light of wisdom. Its vibrations resonate with the essence of divinity and enlightenment.

Navagrahas:
Navigating Celestial Influences: The Navagrahas—Sun, Moon, Mars, Mercury, Jupiter, Venus, Saturn, Rahu, and Ketu—exert cosmic influences on our lives. Chanting Gayatri Mantras for each graha can help balance these energies.

Gayatri Mantras for Navagraha:
• Sun (Surya): "Om Bhur Bhuvaḥ Swaḥ Tat Savitur Vareṇyaṃ Bhargo Devasya Dhīmahi Dhiyo Yonaḥ Prachodayāt."
• Moon (Chandra): "Om Kshira-Putraya Vidmahe Amrita-Tatvaya Dhimahi Tanno Chandrah Prachodayat."
• Mars (Mangal): "Om Angarakaya Vidmahe Mahakaya Dhimahi Tanno Bhaumah Prachodayat."
• Mercury (Budha): "Om Gajadhwajaaya Vidmahe Shuka-Priyaaya Dhimahi Tanno Budhah Prachodayaat."
• Jupiter (Brihaspati): "Om Vrishabhaanujaya Vidmahe Kruni Hastaaya Dhimahi Tanno Guru Prachodayaat."
• Venus (Shukra): "Om Ashwadhwajaaya Vidmahe Dhanur Hastaya Dhimahi Tanno Shukrah Prachodayaat."
• Saturn (Shani): "Om Neelaanjanasamaabhaasam Raviputram Yamaagrajam Chhayaamaartanda Sambhootam Tam Namaami Shanaishcharam."
• Rahu: "Om Dhumra-Ketave Vidmahe Sarpa-Raajaya Dhimahi Tanno Rahu Prachodayaat."
• Ketu: "Om Ashwadhwajaaya Vidmahe Shukha Hastaya Dhimahi Tanno Ketuh Prachodayaat."

Benefits of Chanting Gayatri Mantras for Navagraha:

• Planetary Pacification: By appeasing the Navagrahas, you can reduce malefic influences and enhance positive energies.
• Favorable Outcomes: Chanting these mantras can lead to better outcomes in various aspects of life, including career, relationships, and health.
• Spiritual Transformation: The practice fosters a spiritual connection, promoting personal growth and higher understanding.
• Karmic Healing: Gayatri Mantras can help balance karmic energies, leading to a more balanced and fulfilling life.
• Protection and Guidance: Invoking the planetary deities through these mantras creates a protective shield and offers divine guidance.

How to Chant Gayatri Mantras for Navagraha:
• Set Intentions: Approach the practice with a clear intention of harmonizing planetary energies and seeking their blessings.
• Sacred Space: Create a serene environment for chanting, where you can focus and connect with divine energies.
• Devotion: Chant with devotion and gratitude, feeling the vibrations resonate within you.
• Regularity: Consistency is important. Incorporate the practice into your daily routine to maximize its benefits.
• Mindful Reflection: After chanting, spend a few moments in quiet reflection, absorbing the energies and expressing gratitude.
Conclusion:
Chanting Gayatri Mantras for Navagraha is a profound way to appease the planetary deities and balance cosmic energies. This practice offers protection, positive transformation, and the potential for enhanced well-being on various levels.

---
Our Promises
We take utmost care to ensure that your devotion and reverence reaches God in its true spirit.
Steps we take:
Ensure that the Puja is performed by qualified and experienced pundits only.
Make sure that Puja is performed according to Vedic rituals.
Make use of superior quality 'Samagri' to perform the Puja.
Take Utmost care that the Puja is performed at the correct time (Mahurat) for best results.
Provide support and guidance to our clients at every step.
---
Reviews Rao Mukherji
I was going through some unknown fear but the puja which I got it done from this site has relieved me a lot from the fear. Rani Sachdeva
I really thank you for chanting the mantra on behalf of us. We have a sense of satisfaction after this mantra jaap. Kapil Kansal
Thank you for letting us know the immense benefit of performing puja. We are organizing it in our home every year. Akshara Patil
After I came to know about the puja that would get me out of the ill effects, we started performing this puja at our home every year. Thank you. Ajay Gupta
I didn't know the importance of puja, thank you for sharing the wonderful benefits of performing the same. We will continue to follow this ritual.
---