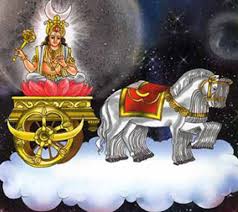 Participate in Prasad offering in Temples on Sharad Purnima
₹3658 | $61
Participate in Prasad offering in Temples on Sharad Purnima
Purpose :
In order to seek immense blessings from all the supreme deities and live a contented life it is recommended to participate in prasad offering in temples on Sharad Purnima. By Prasad offering in temples one can come out of miserliness and shortage of funds as well.
---
The Date, Legend And Significance:
The full moon day of the Hindu lunar month of Ashvin (corresponding partly to the months of September and October of the Gregorian calendar, and sandwiched between the festivals of Dussehra and Diwali) is celebrated as the festival of Sharad Purnima or Sharad Poonam. The festival is also known as Kojagiri Purnima or Kuanr Purnima. On this day, the people in some parts of India worship Lord Vishnu and his incarnation Lord Krishna, while others worship Goddess Laxmi. In Odisha, the great son of Lord Shiva – Kumar or Kartikeya is worshipped. But, the luminary – the Moon is considered to be the central figure of this festival. It is believed that the Moon showers nectar on the devotees who stay awake all night and offer sweets, especially Kheer, which is essentially a porridge of milk and rice. Moreover, worshipping the
Shree Yantra
on this day is said to bring great results. This festival also signals the end of the monsoon season and heralds the season of harvest, and devotees fast all night and partake of the prasada of the Kheer on the next morning, believed to be suffused by the nectar dripping from the full moon of the night before. Sharad Purnima festival falls two weeks prior to
Diwali
and one month before Kartik Purnima.
On Purnima, Moon is closest to the earth. It is believed that keeping Kheer in the Purnima moon light and consuming it in the morning offers peace and calm. According to ancient scriptures, on Sharad Purnima, Maa Lakshmi was born. That is why, the day is observed as Kojagiri Purnima in some regions of country. It is believed that Maa Mahalakshmi roams all night to see which of her devotees are performing puja to appease her

Benefits

Welcome wealth and prosperity in your life
Get rid of your sins by distributing Kheer Prasad on Sharad Purnima
Ensure good health by consuming this Kheer. Overcome bile related problems
Whats Included
Prepare Kheer by boiling milk and rice and place it in a bowl in the open, say on a terrace or in a balcony, where the moon rays fall directly into the bowl. You can also add some dry fruits of your choice to the preparation.

Kheer in the form of Prasad will be distributed in temples on your behalf next morning.
Prasad – Akshat (rice), Kumkum, Mauli
Disclaimer:
Astroahead neither represents the temple authorities or its trustees nor are the manufacturer/seller of Prasad products, but is solely a platform which connects you with certain individuals who shall perform puja ('Service') on your behalf. Accordingly,
Astroahead makes no representation or warranties of any kind express or implied as to the execution of the orders at the Temple or the quality or delivery of Service.To the full extent permissible by applicable law, Astroahead disclaims all warranties, express or implied, including, but not limited to the warranties of quality, service on fitness for a particular purpose.

---
Important Facts
According to the mythological stories, amrut drips from the moon on Sharad Purnima so sweet dish made of rice is kept in the moonlight and next morning it is consumed as prasad. Also, legends explain that the day of Sharad Purnima is regarded to be auspicious as it is the birthday of Goddess Lakshmi. On this day Maa Lakshmi takes a tour of the earth to check who are performing puja to please her.
Apart from the religious beliefs, it is very much essential to understand the scientific importance of Sharad Purnima. On this day the moon comes closer to planet earth and shines much brighter than other full moon days. The rays coming from the moon is said to have healing abilities which are essential to nurture one's body and soul.
Our Promises
We take utmost care to ensure that your devotion and reverence reaches God in its true spirit.
Steps we take:
Ensure that the Puja is performed by qualified and experienced pundits only.
Make sure that Puja is performed according to Vedic rituals.
Make use of superior quality 'Samagri' to perform the Puja.
Take Utmost care that the Puja is performed at the correct time (Mahurat) for best results.
Provide support and guidance to our clients at every step.
---
Reviews Mitali Chaturvedi
I was working very hard but wasn't able to achieve success, and then I came to know about the rituals that are supposed to be followed. Now, I see a change in my career after performing this puja. Akshara Patil
The puja has really brought in peace and contentment at home. We have started experiencing positivity. Ajay Gupta
After I came to know about the puja that would get me out of the ill effects, we started performing this puja at our home every year. Thank you. Rao Mukherji
I was facing a lot of difficulties in my life and I didn't know what to do. I was not aware of the puja that was supposed to be performed, thanks for guiding us about the puja. Trilochan Singh
I was going through some unknown fear but the puja which I got it done from this site has relieved me a lot from the fear.
---