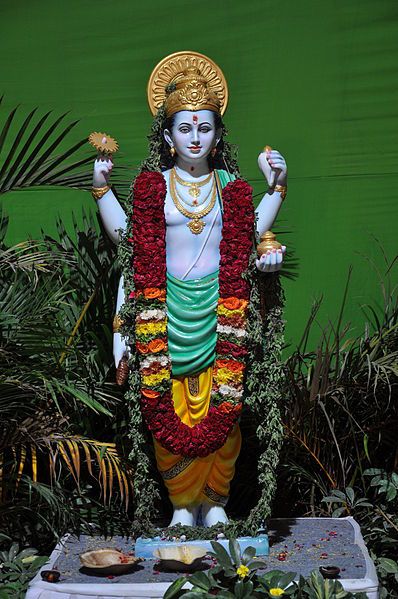 Online Dhanvantari Puja for protection against life-threatening diseases
₹5100 | $72
Online Dhanvantari Puja for protection against life-threatening diseases
Purpose :
Lord Dhanvantari is regarded as the Father of Ayurveda hence worshipping this divine form and submitting yourself completely to this deity will help you get rid of health-related issues. Also, by performing Dhanvantari Puja, the devotee will be blessed with a long and disease-free life. Dhanvantari Puja is highly recommended by astrologers to those people who have been ailing for a long time now and are feeling low at energy. Due to which these people are unable to achieve their desired goals in life.

---
Key Puja Insights
One of the divine manifestations of Lord Vishnu is Lord Dhanvantari. It is mentioned in the Vedic scriptures that, Lord Dhanvantari came out of the milky ocean with a pot of nectar (Amrit) during Samudra Manthan. This deity is held high in regard not only by human beings but also by the celestial beings as the Lord saves one from premature deaths and other life-threatening diseases.

---
Benefits of puja
Worshipping of Lord Dhanwantri with utmost belief and devotion will benefit the performer in many ways such as:

The performer of this puja will get abundant blessings from Lord Dhanvantari and will be leading a long and happy life
Dhanvantari Puja will relieve you from all sorts of chronic diseases
You will be possessing a sound mind and sound body
If you have been suffering from any physical and mental disorders, you can come out of the same by this carrying out this puja
The puja is very effective in overcoming the fear of mind
Dhanvantari Puja is helpful in attaining moksha

---
What's Included
Devotees need not have to come out of their house to perform this puja as you can get the Dhanvantari Puja done online. Lord Dhanvantari Puja is usually performed early in the morning before sunrise and Dhanwantari maha-mantra Jaap is done in multiples of 108. Dhanwantari Maha Mantra and Dhanwantari Gayatri Mantra are as follows:
"Om Namo Bhagavate, Maha Sudharshanaya
Vasudevaya Dhanvantaraye, Amruta Kalasa Hastaaye
Sarva Bhaya Vinashanaya, Sarva Roga Nivaranaya
Trilok Pataye, Trilok Naathaye
Sri Maha Vishnu Swarup Sri Dhanvantri Swarup
Sri Sri Sri Aushadh Chakra Narayanaya Namaha"
"Om tat purushaaya vidmahae Amritha kalasa hastaaya dheemahi, Tanno Dhanvantri prachodayaat."
Learned Pandits will do the Sankalp on your behalf.
Live Telecast link for the puja will be shared over your email.

---
---
Important Facts
In the Hindu religious texts, Lord Dhanvantari is portrayed as a four-armed God carrying Amrit in one hand, shank and chakra in the other two and there is a leech held in the fourth arm.
As per the legends, Lord Dhanvantari was the one who taught Sushruta sages the science of Ayurveda, who later began the practice of surgeries.

Our Promises
We take utmost care to ensure that your devotion and reverence reaches God in its true spirit.
Steps we take:
Ensure that the Puja is performed by qualified and experienced pundits only.
Make sure that Puja is performed according to Vedic rituals.
Make use of superior quality 'Samagri' to perform the Puja.
Take Utmost care that the Puja is performed at the correct time (Mahurat) for best results.
Provide support and guidance to our clients at every step.
---
Reviews Akshara Patil
I was working very hard but wasn't able to achieve success, and then I came to know about the rituals that are supposed to be followed. Now, I see a change in my career after performing this puja. Trilochan Singh
Thank you for letting us know the immense benefit of performing puja. We are organizing it in our home every year. Mitali Chaturvedi
After we got the puja performed the court case which was prolonged for years came into our favor. Rani Sachdeva
After I came to know about the puja that would get me out of the ill effects, we started performing this puja at our home every year. Thank you. Rao Mukherji
I was facing a lot of difficulties in my life and I didn't know what to do. I was not aware of the puja that was supposed to be performed, thanks for guiding us about the puja.
---