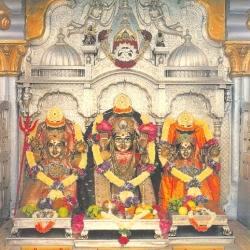 Offer Prasad at Mahalakshmi Temple, Mumbai
₹2478 | $42
Offer Prasad at Mahalakshmi Temple, Mumbai
---
Located at the pristine location of Maharasthra, a visit to the Mahalakshmi temple is a true bliss and an ultimate experience. Dedicated to Maa Lakshmi or the "goddess of wealth", the temple attracts thousands of devotees everyday.
The Mahalakshmi temple is one the oldest temples of Mumbai and is strategically located at a beautiful and serene place. The main temple presiding deity of the temple is Maa Lakshmi; however, Maa Kaali and Maa Saraswati are also worshipped. The three idols are known as Trishakti and are adorned with gold, silver and pearls.
It is believed that offering Prasad at this temple fulfils all your worldly desires. At Astroahead, we understand the importance of the blessings on Maa Lakshmi, and hence we have brought you an opportunity to appease Maa Lakshmi by offering Prasad at Mahalakshmi temple in Mumbai.
Please Note that the Prasad will be offered at the temple by our representative on your behalf. These offerings will be made by adhering to the Vedic rules and regulations.
Once our representative is back from the Shrine, Prasad offerings will be sent to you on the address provided on the time of booking.
Disclaimer:
Astroahead neither represents the temple authorities or its trustees nor are the manufacturer/seller of Prasad products, but is solely a platform which connects you with certain individuals who shall perform puja ('Service') on your behalf. Accordingly, Astroahead makes no representation or warranties of any kind express or implied as to the execution of the orders at the Temple or the quality or delivery of Service.
To the full extent permissible by applicable law, Astroahead disclaims all warranties, express or implied, including, but not limited to the warranties of quality, service on fitness for a particular purpose.
---
Our Promises
We take utmost care to ensure that your devotion and reverence reaches God in its true spirit.
Steps we take:
Ensure that the Puja is performed by qualified and experienced pundits only.
Make sure that Puja is performed according to Vedic rituals.
Make use of superior quality 'Samagri' to perform the Puja.
Take Utmost care that the Puja is performed at the correct time (Mahurat) for best results.
Provide support and guidance to our clients at every step.
---
Reviews Ajay Gupta
I really thank you for chanting the mantra on behalf of us. We have a sense of satisfaction after this mantra jaap. Trilochan Singh
I didn't know the importance of puja, thank you for sharing the wonderful benefits of performing the same. We will continue to follow this ritual. Akshara Patil
Thank you for letting us know the immense benefit of performing puja. We are organizing it in our home every year. Rao Mukherji
I was facing a lot of difficulties in my life and I didn't know what to do. I was not aware of the puja that was supposed to be performed, thanks for guiding us about the puja. Mitali Chaturvedi
I was working very hard but wasn't able to achieve success, and then I came to know about the rituals that are supposed to be followed. Now, I see a change in my career after performing this puja.
---