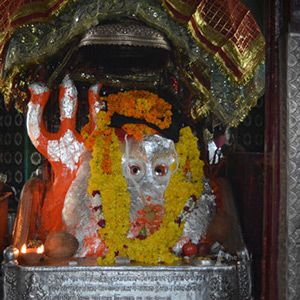 Offer Milk or Wine at Siddh Prachin Bhairon Temple on Kaal Bhairav Ashtami
₹1770 | $30
Offer Milk or Wine at Siddh Prachin Bhairon Temple on Kaal Bhairav Ashtami
---
Benefits are this puja:
• Grants all-around success in every aspect of life
• Fulfils deepest desires of the devotees
• Blessed with healthy, disease-free life
• Win over court-related matters
• Pacify Shani and Rahu in horoscope by worshipping Lord Kalabhairav
• Eradicate fear of ghosts, atma, evil, and other negative energies
• Grants victory and success to his devotes
• Resolves Issues in family life

Who Should do this puja:
• People who are suffering from paranormal and negative powers
• People who want to win over their enemies
• People who seek healthy and prosperous life



About the puja:
Known as the keeper of time or the Lord of Time, Lord Bhairav Nath is an important deity in Hinduism. He is also known as Kaal Bhairav, i.e. Kaal meaning time. He is also known to guard the eight directions of the universe, and is therefore, the protector. Similarly, he is also known as the wandering avatar or incarnation of lord Shiva who guards the cardinal points. He is kind and bestows his devotees with boons to overcome obstacles and hurdles if he is appeased with complete devotion, proper rituals and sincerity.

On this auspicious day, Astroahead brings you the opportunity to offer Milk or wine at the Siddh Prachin Bhairon Temple located opposite the Pragati Maidan, outside the Old fort or Purana Qila in New Delhi.

The Bhairon temple is the only temple in the country where the deity is offered alcohol. The alcohol is later distributed as Prasad among the devotees. If one does not wish to offer alcohol, they can offer milk at the adjacent Bhairon shrine, located close to the temple. This temple is also known as the Dudhiya Bhairon Mandir.

Once you place the order, Milk and Wine will be offered to Lord Bhairav on your behalf at the mentioned temple on the auspicious day of Kaal Bhairav Ashtami. This will be conducted by experts, adhering to all rules and regulations. Once this is completed, Prasad will be couriered to you on the address provided.



Disclaimer:

Astroahead neither represents the temple authorities or its trustees nor are the manufacturer/seller of Prasad products, but is solely a platform which connects you with certain individuals who shall perform puja ('Service') on your behalf. Accordingly, Astroahead makes no representation or warranties of any kind express or implied as to the execution of the orders at the Temple or the quality or delivery of Service.
To the full extent permissible by applicable law, Astroahead disclaims all warranties, express or implied, including, but not limited to the warranties of quality, service on fitness for a particular purpose.
---
Our Promises
We take utmost care to ensure that your devotion and reverence reaches God in its true spirit.
Steps we take:
Ensure that the Puja is performed by qualified and experienced pundits only.
Make sure that Puja is performed according to Vedic rituals.
Make use of superior quality 'Samagri' to perform the Puja.
Take Utmost care that the Puja is performed at the correct time (Mahurat) for best results.
Provide support and guidance to our clients at every step.
---
Reviews Kapil Kansal
Thank you for letting us know the immense benefit of performing puja. We are organizing it in our home every year. Trilochan Singh
After we got the puja performed the court case which was prolonged for years came into our favor. Mitali Chaturvedi
After I came to know about the puja that would get me out of the ill effects, we started performing this puja at our home every year. Thank you. Rao Mukherji
I really thank you for chanting the mantra on behalf of us. We have a sense of satisfaction after this mantra jaap. Ajay Gupta
I didn't know the importance of puja, thank you for sharing the wonderful benefits of performing the same. We will continue to follow this ritual.
---