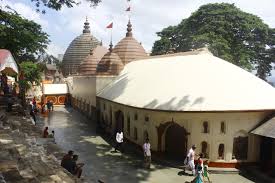 Meenakshi Devi Anushthan: 15th October to 23rd October 2023
Date : 15th October to 23rd October 2023
₹5100 | $72
Meenakshi Devi Anushthan: 15th October to 23rd October 2023
Date : 15th October to 23rd October 2023
Purpose :
Meenakshi Devi Anushthan is a special puja performed to invoke the blessings of Goddess Parvathi also known as Meenakshi Devi and her husband Shiva also known as Sundareswara together to gain their blessings for a happy married life.
---
Key Puja Insights
Meenakshi Devi is a Hindu Goddess who is an incarnation of Goddess Parvathi and wife of Sundareswara who is a form of Lord Shiva. "Meena" means fish and "Akshi" means eyes in Sanskrit. Thus, Meenakshi is the fish-eyed Goddess who provides protection against any problems.
Meenakshi Devi Stotram is a very powerful devotional stotram devoted to Maa Meenakshi Amman who is an incarnation of Goddess Parvathi. It is a remover of all worries from a person's life.
---
Benefits of puja
Married couples will enjoy marital bliss. They will be able to overcome problems if any. Unnecessary conflicts will not arise giving way for peace of mind. This, in turn, will bring in financial stability because a lot of energy will be saved and the mind would be at rest. It also helps in the protection of children against any adversities that might come in their way. Childless couples will be blessed with a child and their life will become complete. Unmarried girls will be benefitted. They will be able to find suitable grooms for marriage. People who chant the stotram will bring auspiciousness in their life and household. You will seek the blessings of Goddess Meenakshi for overall well being and prosperity. People who perform this Anushthan see an increase in their health, wealth and happiness.
---
What's Included
Meenakshi Devi Anushthan includes Ganesha Puja, Navagraha Puja, Meenakshi Puja, Yagya, recitation of the Meenakshi Mantra and Meenakshi Devi Stotram, worshipping Meenakshi Devi, offerings are made, homam is performed, Prasadam is distributed and Dakshina has to be made by the person performing this Anushthan. Other than this, puja items required include a list of items like sandalwood powder, flowers, fruits, Kumkum, rice grains, coconut, fire, and sweets.
---
---
Important Facts
Madurai Meenakshi Sundareswara Temple in Tamil Nadu is a very important temple dedicated to Devi Meenakshi.
Meenakshi Devi Stotram was composed by Adi Shankaracharya in her praise and is recited to receive her divine blessings.
Anushthans are special puja performed for specific purposes and special requirements. It resolves our problems and creates spirituality and positivity.
It is popularly believed that Meenakshi Devi never closes her eyes like the fish and never stops keeping a watch over her devotees and their problems faced by them.
Our Promises
We take utmost care to ensure that your devotion and reverence reaches God in its true spirit.
Steps we take:
Ensure that the Puja is performed by qualified and experienced pundits only.
Make sure that Puja is performed according to Vedic rituals.
Make use of superior quality 'Samagri' to perform the Puja.
Take Utmost care that the Puja is performed at the correct time (Mahurat) for best results.
Provide support and guidance to our clients at every step.
---
Reviews Rani Sachdeva
I really thank you for chanting the mantra on behalf of us. We have a sense of satisfaction after this mantra jaap. Kapil Kansal
I was going through some unknown fear but the puja which I got it done from this site has relieved me a lot from the fear. Ajay Gupta
Thank you for letting us know the immense benefit of performing puja. We are organizing it in our home every year. Mitali Chaturvedi
I didn't know the importance of puja, thank you for sharing the wonderful benefits of performing the same. We will continue to follow this ritual. Akshara Patil
I was facing a lot of difficulties in my life and I didn't know what to do. I was not aware of the puja that was supposed to be performed, thanks for guiding us about the puja.
---