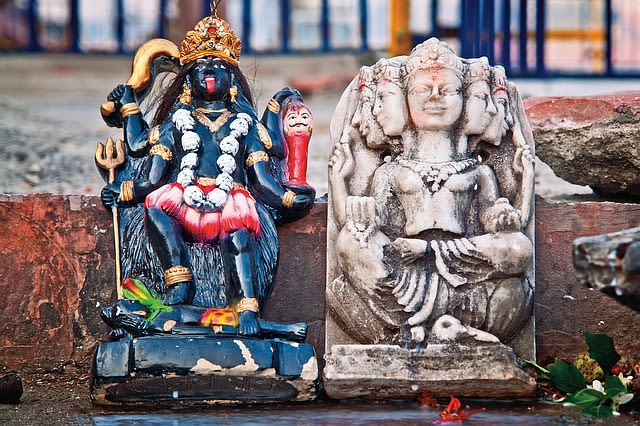 MahaKali puja
₹3600 | $57
MahaKali puja
Purpose :
The Mahakali puja is recommended to be performed by those people who are suffering from the bad intentions of enemies. Also, to overcome the malefic effects caused by the unfavourable planetary positions; one must definitely seek blessings of the deity. Worshipping of Mahakali Yantra is the most effective way to be blessed by this powerful deity.
---
Among the Dus Mahavidya's, Goddess Kali maintains a prominent position. The word /"kali" stands for "the black one". The complexion of Goddess Kali is black and that is why she is known to be Kali. This word is originated from the Hindi word "Kala" which stands for time, black, lord of death and death.
Benefit of Shri Maa Kali Puja
In the Dus Mahavidya sadhaks sadna, Mahakali is considered as the most powerful and influential goddess which gives influential immediate results. Ashtsidhis are attained by the sadhaks by performing this sadhana in a perfect way. There are so many advantages of this sadhna which can be realized just after the Sadhna is completed.
A proper initiation of the Sadhna is required by an efficient Guru( teacher). In his absence also the blessings of Maha Kali can be attained. In order to please the Goddess Kali mantras are chanted, worship is done with her idol or picture and also Yantras (a type of mystical diagram) are used.
These are the other means of worshipping the Goddess which includes offerings, rituals and others. Ma can give you anything and everything in her blessings. Once she is pleased, all the aspirations of an individual can be fulfilled by her.
Ma Kali Puja for Protection
Ma Kali is a protector which protects the individual from:
1. Long-lasting illness.
2. Diseases which cannot be cured.
3. Heavy debts that can make you poor.
4. Hurdles in the success of your business.
5. Betrayal of partner, spouse or best friend.
6. Loss of job on regular basis.
7. Decrease in the rate of success in career or education.
8. Loss in career and no promotion.
9. Origin of problems on the regular basis.
10. Insult through unknown causes.
11. Unfortunate event which can result in some trouble.
12. Bad effect of Saturn planet.
Astrological Significance of Dus Mahavidya Ma kali puja
The list of Shani Doshas is given. For each of them , remedy is required so that the person can get relief from agony and sufferings which are created during these doshas.
1. The time during mahadasa or antardasa(malefic shani).
2. The time duration of shani sade sati.
3. Period of shani dhaiya.
All those who are facing the main and sub period of the Shani(mahadasha and antardasha) or are going through the period of malefic shani then they must carry out this puja of MahaKali Puja on the time of Kali Chaudas. The evil effects of the shani dosha are removed this way.
In order to get rid of the annoyance and misery from the causes that are mentioned above, vamtantra suggests you to perform the Dusmahavidya Maha kali puja so that you can protect yourself and your family form the akaal mrityu, jaadu-tona, evil spirit and others.
On ordering the Puja, the date, time and venue of the puja will be informed to the clients via Email plus a link shall be provided through which you can see your puja live. With this you and your representatives are welcome to attend the same. With this specific puja shall be held for each client
The Puja rituals are performed by learned priests in strict accordance with Vedic rituals
---
Important Facts
Mahakali Puja is generally performed on the night of Diwali that is on Amavasya of the Kartik Month. It is advised to perform this puja on a new moon day and get relieved from all the problems of life.

Our Promises
We take utmost care to ensure that your devotion and reverence reaches God in its true spirit.
Steps we take:
Ensure that the Puja is performed by qualified and experienced pundits only.
Make sure that Puja is performed according to Vedic rituals.
Make use of superior quality 'Samagri' to perform the Puja.
Take Utmost care that the Puja is performed at the correct time (Mahurat) for best results.
Provide support and guidance to our clients at every step.
---
Reviews Rani Sachdeva
Thank you for performing puja on behalf of me. I can see my health improving day by day. Trilochan Singh
I was going through some unknown fear but the puja which I got it done from this site has relieved me a lot from the fear. Akshara Patil
The puja has really brought in peace and contentment at home. We have started experiencing positivity. Ajay Gupta
I was working very hard but wasn't able to achieve success, and then I came to know about the rituals that are supposed to be followed. Now, I see a change in my career after performing this puja. Kapil Kansal
I really thank you for chanting the mantra on behalf of us. We have a sense of satisfaction after this mantra jaap.
---