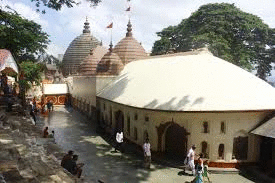 Maa Katyayani Anushthan
₹5100 | $72
Maa Katyayani Anushthan
Purpose :
Maa Katyayani Puja is done to invoke the blessings of Maa Katyayani who will remove the obstacles and delays in marriage. It is also done to seek blessings for a happy married life. people who are going in for love marriage also perform this puja to keep the hurdles away.

---
Key Puja Insights
Maa Katyayani is one of the fierce forms of Maa Durga and is worshipped on the sixth day of Navratri festival. She sits on a lion, has three eyes and four hands. Katyayani means the one who removes all ego.
Single people especially girls who are facing problems of delayed marriage worship Maa Katyayani to overcome their problems. The delay can be due to many doshas in their kundli. Worship of Maa Katyayani includes Maa Katyayani Mantra Jaap and Maa Katyayani Puja which is the most effective remedy.
---
Benefits of puja
Maa Katyayani Anushthan helps in:
· Solving the problem of delayed marriage
· Timely marriage, especially of girls, is assured
· Removes Mangal Dosha present in an individual's kundli
· Married people will be able to enjoy marital bliss
· Peace and harmony in life
· Childless couples will be blessed with a child
· People who are in love but are unable to get married due to family opposition will be benefitted and their marriage will take place without any difficulties
· You will be able to find a perfect partner
---
What's Included
Maa Katyayani Puja Vidhi includes Maa Katyayani Mantra Jaap. Red Chandan Mala is used for the Jaap. Red flowers are to be used and the lady has to wear red colored clothes while performing this puja and Jaap. Maa Katyayani Anushthan is performed by chanting the mantra, followed by puja and then the Homam. Puja items like coconut, red coloured cloth and mangalsutra are placed in front of the photograph of Maa Katyayani in the morning and a fast is observed. Items like flowers, incense sticks, kumkum, ghee, etc. are required. Pray to Maa for the fulfillment of your desire of finding a good partner. Break your fast in the evening with sweets or milk.
---
---
Important Facts
Katyayani Mantra is the most effective mantra for a fruitful married life.
Maa Katyayanni Vrat is also observed along with Strotam. It is believed that Rukmini performed this Vrat and got Lord Krishna as her husband on the successful completion of this Puja. This is performed on seven consecutive Tuesdays.
Our Promises
We take utmost care to ensure that your devotion and reverence reaches God in its true spirit.
Steps we take:
Ensure that the Puja is performed by qualified and experienced pundits only.
Make sure that Puja is performed according to Vedic rituals.
Make use of superior quality 'Samagri' to perform the Puja.
Take Utmost care that the Puja is performed at the correct time (Mahurat) for best results.
Provide support and guidance to our clients at every step.
---
Reviews Akshara Patil
After we got the puja performed the court case which was prolonged for years came into our favor. Trilochan Singh
I was working very hard but wasn't able to achieve success, and then I came to know about the rituals that are supposed to be followed. Now, I see a change in my career after performing this puja. Rani Sachdeva
I really thank you for chanting the mantra on behalf of us. We have a sense of satisfaction after this mantra jaap. Kapil Kansal
I didn't know the importance of puja, thank you for sharing the wonderful benefits of performing the same. We will continue to follow this ritual. Mitali Chaturvedi
Thank you for letting us know the immense benefit of performing puja. We are organizing it in our home every year.
---