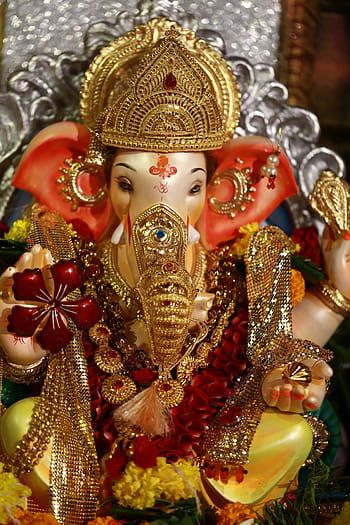 Live a happy and prosperous life by getting Lord Ganesh Puja online
₹5100 | $71
Live a happy and prosperous life by getting Lord Ganesh Puja online
Purpose :
Lord Ganesha is worshipped to removes all the obstacles of life. According to the Hindu scriptures, there are various forms of Lord Ganesha like Buddhi Ganapati is worshipped to gain intelligence and Vidya Ganapati is worshipped for knowledge. Lord Ganesha is the most worshipped deity of the Hindu religion.

---
Key Puja Insights
Lord Shiva and Goddess Parvati's son Lord Ganesha is the one who destroys evils and obstacles. Worshipping Lord Ganesha brings knowledge, wisdom, intelligence, and wealth. Ganesha is one of the five major deities along with Brahma, Vishnu, Shiva, and Durga who are worshipped in the form of Panchayat puja. In the Hindu religion, Lord Ganesha is worshipped with faith and great devotion before starting any auspicious work.

---
Benefits of puja
Following are the important benefits of doing Lord Ganesh Puja:
A devotee attains divine blessings of Lord Ganesha
Worshipping Lord Ganesha fulfils all desires of devotees
Lord Ganesha bestows a devotee with knowledge and intelligence
A devotee attains good luck by worshipping Lord Ganesha
The worshipper will see growth and success in all aspects of life
Lord Ganesha protects his devotee from serious problems like accidents and incurable diseases
---
What's Included
If a person is really willing to do the rituals of Lord Ganesha Puja but due to a busy schedule it is not happening then there is no need to worry as the facility of doing Lord Ganesh Puja is available online now.
You can be a part of the online ceremony of Lord Ganesh Puja. All the rituals of Ganesh Puja will be done as per the Vedic rituals with help of experienced Hindu priests. The Lord Ganesh Puja will be organized on the name of the particular person. The essential pooja material will be used in the rituals of Lord Ganesha Puja.
---
---
Important Facts
Lord Ganesha occupies a significant place among the Hindu Lords and icons of Sanatan Dharma. Lord Ganesha is called by thousands of names like Ekadanta, Gajanan, Lambodara, Ganapati, Vinayaka. In Hinduism, the glory of Lord Ganesha has been accepted differently than other Lords. In the Vedas and Puranas, Ganesha is described as the Lord of fame, popularity, courage, splendor, opulence, good luck, success, money, cereal, wisdom, intelligence, and knowledge.
The different forms of Lord Ganesha have been discussed in many scriptures. Lord Ganesha was first mentioned in the Rigveda. Ganapati is also mentioned in the Brahmanaspati Suktam in the Rigveda. Ganapati is being worshipped by Vedic and mythological mantras since time immemorial. In the Vedas, Ganapati is also called 'Brahmanaspati'. In the form of Brahmanaspati, he is the preserver of Sarvagya Nidhi and all the literacy.
Our Promises
We take utmost care to ensure that your devotion and reverence reaches God in its true spirit.
Steps we take:
Ensure that the Puja is performed by qualified and experienced pundits only.
Make sure that Puja is performed according to Vedic rituals.
Make use of superior quality 'Samagri' to perform the Puja.
Take Utmost care that the Puja is performed at the correct time (Mahurat) for best results.
Provide support and guidance to our clients at every step.
---
Reviews Rani Sachdeva
After we got the puja performed the court case which was prolonged for years came into our favor. Kapil Kansal
Thank you for performing puja on behalf of me. I can see my health improving day by day. Ajay Gupta
Thank you for letting us know the immense benefit of performing puja. We are organizing it in our home every year. Mitali Chaturvedi
I was going through some unknown fear but the puja which I got it done from this site has relieved me a lot from the fear. Trilochan Singh
The puja has really brought in peace and contentment at home. We have started experiencing positivity.
---