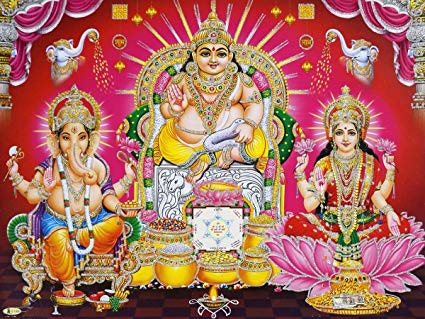 Lakshmi Kuber Group Puja on Dhanteras
₹3100 | $48
Lakshmi Kuber Group Puja on Dhanteras
Purpose :
Performing puja on Dhanteras is said to wipe away poverty and the performer will be granted with an abundance of wealth, prosperity, wisdom and intelligence. If you would like to see rapid growth in your business and in your career then this Group Lakshmi Kuber puja is the ultimate solution.
---
Maa Lakshmi is believed to the goddess of wealth and Lord Kuber is the treasurer. By appeasing the both, one can seek prosperity in life. According to the ancient scriptures, Lord Kuber is the grandson of Brahma. He resides in Kalash and takes care of the wealth. If one wants to ensure financial Stability and repay debts, he should get this puja performed. Goddess Lakshmi is invoked for wealth and new opportunities. Lord Kubera is the heavenly treasurer who blesses the devotees with comforts and luxuries. This Puja is performed to invoke the blessings of Goddess Lakshmi and Lord Kubera to acquire material growth and prosperity
Benefits:
For attracting abundance and new opportunities for growth
For removing all obstacles in the way of financial freedom
For success in business and career
For divine grace of Lord Kuber and Goddess Laxmi
Welcome financial prosperity by performing this puja
Overcome financial debts and crises by appeasing Lord Kuber and Maa Lakshmi
Ensure success in your business with this puja
Laxmi Kuber Puja Mantra: Om Hreem Aishwarya Shreem Dhana Dhanyadhipataye Aim Poornatva Laxmi Kuberaya Siddhe Namaha
Puja service includes: Kalash Sthapana, Panchang Sthapana(Gauri Ganesh, Punyavachan, Shodash Matrika, Navgraha, Sarvotabhadra), 64 yogini Pujan, Shetrapal Pujan, Swasti Vachan, Sankalpa, Ganesh Pujan and Abhishek, Navgraha Pujan and 108 chants of each planetary mantra, Invocation of major Gods and Goddesses in Kalash, Abhishek and Puja of Laxmi Kuber Idols, Recitation of Lakshmi Suktam, Laxmi Kuber Mantra Japa, Homa, Aarti and Pushpaanjali
Whats Included
A list of dos and don'ts to be followed during and before the puja
Link through which you can watch this puja online
Prasad will be sent after the puja
Disclaimer:
Astroahead neither represents the temple authorities or its trustees nor are the manufacturer/seller of Prasad products, but is solely a platform which connects you with certain individuals who shall perform puja ('Service') on your behalf. Accordingly, Astroahead makes no representation or warranties of any kind express or implied as to the execution of the orders at the Temple or the quality or delivery of Service.

To the full extent permissible by applicable law, Astroahead disclaims all warranties, express or implied, including, but not limited to the warranties of quality, service on fitness for a particular purpose,

---
Important Facts
Dhanteras is the first day of the prosperous festival Diwali and on this day Goddess Lakshmi came out of the ocean to bless mankind with riches and worldly comforts. Lord Kubera the God of wealth is worshipped on this day to fulfill one's materialistic desires. Also, Lord Dhanwantri who is called the father of Ayurvedic Medicine is prayed on this day asking for good health and mental stability.
One must keep in mind that the puja must be performed under the guidance of learned pundits as it involves chanting of powerful mantras.
Our Promises
We take utmost care to ensure that your devotion and reverence reaches God in its true spirit.
Steps we take:
Ensure that the Puja is performed by qualified and experienced pundits only.
Make sure that Puja is performed according to Vedic rituals.
Make use of superior quality 'Samagri' to perform the Puja.
Take Utmost care that the Puja is performed at the correct time (Mahurat) for best results.
Provide support and guidance to our clients at every step.
---
Reviews Ajay Gupta
Thank you for letting us know the immense benefit of performing puja. We are organizing it in our home every year. Rao Mukherji
After I came to know about the puja that would get me out of the ill effects, we started performing this puja at our home every year. Thank you. Rani Sachdeva
Thank you for performing puja on behalf of me. I can see my health improving day by day. Mitali Chaturvedi
I was working very hard but wasn't able to achieve success, and then I came to know about the rituals that are supposed to be followed. Now, I see a change in my career after performing this puja. Trilochan Singh
The puja has really brought in peace and contentment at home. We have started experiencing positivity.
---