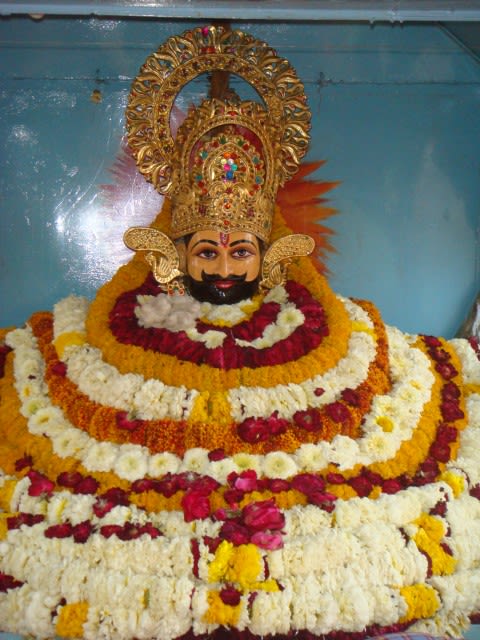 Khatu Shyam Puja for immense wealth and prosperous life
₹9501 | $125
Khatu Shyam Puja for immense wealth and prosperous life
Purpose :
Khatu Shyam fulfils all the wishes of the devotees and showers immense wealth. This puja of Khatu Shyam is conducted to show adherence and gratitude towards this divine form. One will never face financial crises or loss in business after performing the auspicious rituals of Khatu Shyam Puja. Khatu Shyam Puja is performed to achieve victory and financial growth in life. Khatu Shyam Puja is also conducted to bring peace and happiness to the house.

---
Key Puja Insights
The manifestation of Barbareek is known as Khatu Shyam. He was the grandson of Bhimsen and Hidimba. Khatu Shyam is also known as Sham Baba as he is popular for his supernatural powers. As per the Hindu scriptures, Khatu Shyam has three unbeatable arrows that never miss its target. It is believed that Khatu Shyam fulfills all the desires of his devotees who pray to him with true devotion and faith.

---
Benefits of puja
The major benefits of Khatu Shyam Puja are given below:
Khatu Shyam Puja restores harmony in the devotee's life.
It blesses the devotee with a positive strength to complete the work in a suitable way.
Khatu Shyam gives the courage to fight each and every problem of life.
This Puja blesses the devotee with a healthy and longer life.
Devotees will experience spiritual growth in life.
---
What's Included
Khatu Shyam Puja should be performed under the guidance of 3 expert Hindu Pandits. It requires a duration of one day to complete the rituals of Khatu Shyam Puja. The auspicious rituals of Kalash Sthapana, Panchang Sthapana, Gauri Ganesh Sthapana, Navagraha Sthapana, Punyavachan, Shodash, Matrika, Sarvotabhadra.
This Puja also includes some of the holy rituals of 64 Yogini Puja, Kshetraphal puja, Swasti Vachan, Sankalp, Ganesh Puja with Abhishek, Navagrah Puja with the chanting of each planetary Mantra for 108 times, Khatu Shyam Puja with Abhishek, chanting of Khatu Shyam Stotra, Chanting of Kavach and Chalisa, Kathu Shyam Mantra Japa for 11,000 times, etc. The sacred rituals of Yagna are performed with aarti and pushpanjali. All the Gods and Goddesses are invoked in the holy Kalasha in the ceremony of Khatu Shyam Puja.
---
---
Important Facts
As per the Hindu scriptures, Khatu Shyam is associated with the period of Mahabharata. It is believed that Khatu Shyam was the grandson of Pandu Putra Bhima. Lord Krishna was impressed by the immense power and ability of Khatu Shyam and he gave him the boon to be worshipped in his name in Kali Yuga.
Khatu Shyamji's fair is held every year during Holi. In this fair, devotees from all over the country and abroad come to visit Baba Khatu Shyam temple. Devotees have strong faith in his temple. Khatu Shyam is also known as Baba Shyam, Hare ka Sahara, Lakhdatar, Khatushyam Ji, Morvinandan, King of Khatu, and Sheesh ka Dani in different parts of India.
Our Promises
We take utmost care to ensure that your devotion and reverence reaches God in its true spirit.
Steps we take:
Ensure that the Puja is performed by qualified and experienced pundits only.
Make sure that Puja is performed according to Vedic rituals.
Make use of superior quality 'Samagri' to perform the Puja.
Take Utmost care that the Puja is performed at the correct time (Mahurat) for best results.
Provide support and guidance to our clients at every step.
---
Reviews Rao Mukherji
After I came to know about the puja that would get me out of the ill effects, we started performing this puja at our home every year. Thank you. Kapil Kansal
I didn't know the importance of puja, thank you for sharing the wonderful benefits of performing the same. We will continue to follow this ritual. Akshara Patil
The puja has really brought in peace and contentment at home. We have started experiencing positivity. Trilochan Singh
I was facing a lot of difficulties in my life and I didn't know what to do. I was not aware of the puja that was supposed to be performed, thanks for guiding us about the puja. Ajay Gupta
I was going through some unknown fear but the puja which I got it done from this site has relieved me a lot from the fear.
---