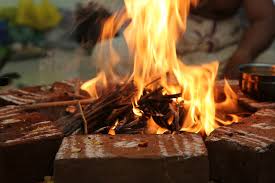 Karthaveeryarjuna Homam
₹5100 | $72
---
Karthaveeryarjuna is the lord with thousand hands. It is believed that he is one of the disciplines of Lord Dattatreya.
People perform Karthaveeryarjuna homam to regain the stolen or lost items. This homam is also very effective in finding information on the whereabouts of the missing people in the family. This homam is performed by invoking lord Karthaveeryarjuna followed by chanting of Lord Karthaveeryarjuna mantra and then performing the homa and receive his blessings.
Key Insights:
To regain precious things you've lost or misplaced.
Karthaveeryarjuna is a god with "1000 hands".
Any auspicious date is compatible with Janma Nakshatra.
Deity Worshiped: Karthaveeryarjuna.
When to Perform?
Date to perform this homam can be fixed as per one's janma nakshatra, the yoga and the thithi of that date.
Benefits
Karthaveeryarjuna Homam is a powerful solution to get back any lost or stolen items or materials.
Karthaveeryarjuna Homam has the power to bring back our kith and kin who are missing for a long time.
This Homam helps you get back your property or jewelry that rightfully belongs to you from your parents or ancestors.
Helps one regain any lost or stolen materials or items.
People whose relatives are missing or have been separated from relationship, can get back together by performing this homa.
Helps you get back your property or ornaments that rightfully belongs to you from your parents or ancestors
Whats Included
List of Dos and Don'ts that needs to be followed before and during the homam
Prasad (Panchmeva and Holy Ash) will be Courier after the Puja
Disclaimer:
Astroahead neither represents the temple authorities or its trustees nor are the manufacturer/seller of Prasad products, but is solely a platform which connects you with certain individuals who shall perform puja ('Service') on your behalf. Accordingly, Astroahead makes no representation or warranties of any kind express or implied as to the execution of the orders at the Temple or the quality or delivery of Service.
To the full extent permissible by applicable law, Astroahead disclaims all warranties, express or implied, including, but not limited to the warranties of quality, service on fitness for a particular purpose.
---
Our Promises
We take utmost care to ensure that your devotion and reverence reaches God in its true spirit.
Steps we take:
Ensure that the Puja is performed by qualified and experienced pundits only.
Make sure that Puja is performed according to Vedic rituals.
Make use of superior quality 'Samagri' to perform the Puja.
Take Utmost care that the Puja is performed at the correct time (Mahurat) for best results.
Provide support and guidance to our clients at every step.
---
Reviews Rao Mukherji
I was working very hard but wasn't able to achieve success, and then I came to know about the rituals that are supposed to be followed. Now, I see a change in my career after performing this puja. Kapil Kansal
I didn't know the importance of puja, thank you for sharing the wonderful benefits of performing the same. We will continue to follow this ritual. Rani Sachdeva
After I came to know about the puja that would get me out of the ill effects, we started performing this puja at our home every year. Thank you. Ajay Gupta
Thank you for performing puja on behalf of me. I can see my health improving day by day. Trilochan Singh
I really thank you for chanting the mantra on behalf of us. We have a sense of satisfaction after this mantra jaap.
---