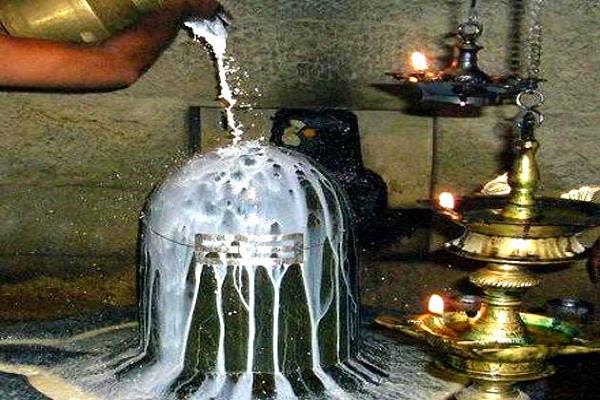 Group Rudrabhishek to appease Lord Shiva
₹2100 | $33
Group Rudrabhishek to appease Lord Shiva
---
Get rid of all negativities from your life with Rudraabhishek puja
The Shiva Rudra Abhishekam puja or Rudraabhishek puja is carried out to appease Rudra, one of the avatars of Lord Shiva. Rudra is an aggressive and fearsome avatar of Lord Shiva. It is believed that worshipping Lord Rudra can help eradicate all the negativity and evil energies from one's life.
Performing this puja to please Lord Shiva is bound to help you achieve all your desires and enjoys inner peace. Don't miss out on this opportunity, as at Astroahead, we can help you appease the Lord with Rudraabhishek.
Rudraabhishek will help you completely change negative energy into positive energy, which will undoubtedly fill your life with joy, prosperity, happiness and love. Enjoy an abundance of health, wealth and prosperity while ensuring you are completely rid of negative energies of ill health, stress and depression.
With the help of Rudraabhishek, one can transform negative energy into positive energy.

Rudraabhishek with Hawan is primarily done to
Eradicate doshas from Navagraha
Remove financial difficulties
Enhance positive energy
Improve your prospects in business as well as jobs
Enjoy harmony and happiness in the family
Get rid of physical and mental troubles
Enjoy a positive spirit and a healthy mind
Experience a blessed married life
Get success in education
At Astroahead, we make sure that puja and hawan are performed by proficient experts/pundits who adhere to all the Vedic rules and rituals.
How we perform the Puja for you
Once you place your request a puja, we send you an online link. By clicking on the link, you can see our pundits perform the puja live on your screen
Once, the Puja is complete, Prasad will be couriered to you on the address provided.

Prasad will include:
Chandan for males
Sindoor for females
Panchmeva
Disclaimer:
Astroahead neither represents the temple authorities or its trustees nor are the manufacturer/seller of Prasad products, but is solely a platform which connects you with certain individuals who shall perform puja ('Service') on your behalf. Accordingly, Astroahead makes no representation or warranties of any kind express or implied as to the execution of the orders at the Temple or the quality or delivery of Service.

To the full extent permissible by applicable law, Astroahead disclaims all warranties, express or implied, including, but not limited to the warranties of quality, service on fitness for a particular purpose.

---
Our Promises
We take utmost care to ensure that your devotion and reverence reaches God in its true spirit.
Steps we take:
Ensure that the Puja is performed by qualified and experienced pundits only.
Make sure that Puja is performed according to Vedic rituals.
Make use of superior quality 'Samagri' to perform the Puja.
Take Utmost care that the Puja is performed at the correct time (Mahurat) for best results.
Provide support and guidance to our clients at every step.
---
Reviews Rao Mukherji
After I came to know about the puja that would get me out of the ill effects, we started performing this puja at our home every year. Thank you. Akshara Patil
After we got the puja performed the court case which was prolonged for years came into our favor. Mitali Chaturvedi
Thank you for performing puja on behalf of me. I can see my health improving day by day. Kapil Kansal
Thank you for letting us know the immense benefit of performing puja. We are organizing it in our home every year. Rani Sachdeva
I really thank you for chanting the mantra on behalf of us. We have a sense of satisfaction after this mantra jaap.
---