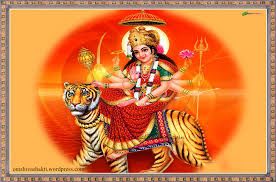 Group Navratri Puja: 15th October to 23rd October 2023
Date : 15th October to 23rd October 2023
₹2100 | $33
Group Navratri Puja: 15th October to 23rd October 2023
Date : 15th October to 23rd October 2023
Purpose :
Navratri as mentioned in holy scriptures are those revered nine days wherein the demonish acts were curbed and good won over evil. So, those people who would like to keep themselves away from negative energies and be protected from the enemies should definitely bow down to the Goddess. Practising Navratri puja with complete faith and dedication will give you the courage to fight against all odds faced in life and makes your life a prosperous one.
---
Find answers to all issues related to career, job, family disputes, health, wealth & more
As per the Hindu culture Navratri, is a festival that is celebrated for nine-days by worshipping Maa Durga with a lot of enthusiasm and zeal. Navratri is derived from a Sanskrit word, Nava means Nine and ratri stands for night. People fast on these nine days and offer prayers to Goddess Durga and seek her blessings.
The nine days of Navratri signifies nine manifestations of Maa Durga:
· Goddess Shailputri
· Goddess Brahmacharini
· Goddess Chandraghanta
· Goddess Kushmanda
· Goddess Skandmata
· Goddess Katyayani
· Goddess Kaalratri
· Goddess Mahagauri
· Goddess Siddhidatri
The festival of Navratri for the year 2018 starts on 29th Sep and ends on 07th Oct 2019. Worshipping Maa Durga during these 9 days of Navratri is believed to be highly beneficial. At Astroahead, you will be given an opportunity to be bestowed by Maa Durga by doing the Group Navratri puja on your behalf.
The different procedures that are included in the puja are:
· Navchandi path

· Durga Saptasati Path
· Yagna
The priests will be chanting the complete Durga Saptshati path and offer panchmeva, Mata ka shringaar, Chunri, Kalash, and coconut before the deity.
Navchandi Path:
It is chanted for seeking a long and successful life. This is regarded to be the most powerful Path for solving issues related to job, wealth, career, family disputes, health, court case, enemies etc.
Durga Saptasati Path:
This Path comprises of 13 Chapters and 700 Shlokas. Reciting these Shlokas is called as Durga Saptshati Path.
Yagna is performed after the completion of path and this ritual is considered to be very sacrosanct. The person performing this would be abundantly blessed with all good things in life by Maa Durga.
Performing this Group Navratri puja gives you the below-mentioned benefits:
• Joy and comfort in life
• Pleasant and a happy family relationships
• Fills you with self-confidence and helps you in making right decisions
• Get rid of all troubles in life and victory over enemies
• takes out all negative energies from life
• Blesses you with good health
• resolves financial issues
Let's see how is this puja carried out on behalf of you
Once the Puja is completed, you will receive the following as Prasad:
At Astroahead, learned pandits conduct this puja by properly following the rules and regulations of Vedic rules and rituals.
Once the puja is ordered, an email containing Date, Time and Venue of the puja will be sent to you. Along with this, a link will also be sent to you that would help in watching this puja live. Prasad would be couriered to you on the address provided by you.
---
Important Facts
According to the sacred religious texts, Goddess Durga took various forms like Shailaputri, Brahmacharini, Chandraghanta, Kushmanda, Skandamata, Katyayani, Kalaratri, Mahagauri, Siddhidhatri to kill the demon Kalasura. This battle continued for nine days and nine nights and finally on the tenth day Maa Durga assassinated the demon and won over evil.
Our Promises
We take utmost care to ensure that your devotion and reverence reaches God in its true spirit.
Steps we take:
Ensure that the Puja is performed by qualified and experienced pundits only.
Make sure that Puja is performed according to Vedic rituals.
Make use of superior quality 'Samagri' to perform the Puja.
Take Utmost care that the Puja is performed at the correct time (Mahurat) for best results.
Provide support and guidance to our clients at every step.
---
Reviews Mitali Chaturvedi
I didn't know the importance of puja, thank you for sharing the wonderful benefits of performing the same. We will continue to follow this ritual. Rani Sachdeva
After we got the puja performed the court case which was prolonged for years came into our favor. Kapil Kansal
I really thank you for chanting the mantra on behalf of us. We have a sense of satisfaction after this mantra jaap. Ajay Gupta
I was going through some unknown fear but the puja which I got it done from this site has relieved me a lot from the fear. Akshara Patil
The puja has really brought in peace and contentment at home. We have started experiencing positivity.
---