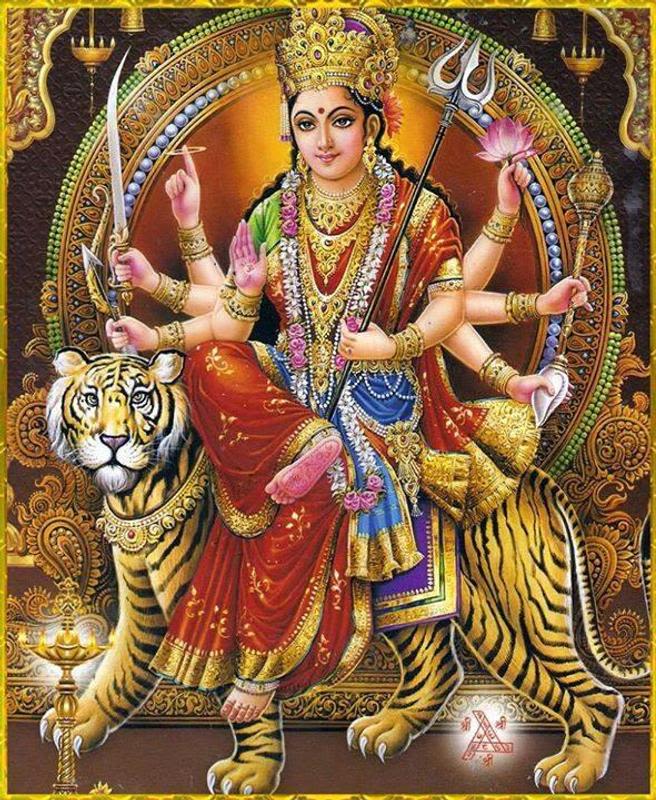 Group Durga Saptashati Path plus Lakshmi Suktam plus Saraswati Path for Protection and obstacles removal for Self and Family: 15th October to 23rd October 2023
Date : 15th October to 23rd October 2023
₹3100 | $49
Group Durga Saptashati Path plus Lakshmi Suktam plus Saraswati Path for Protection and obstacles removal for Self and Family: 15th October to 23rd October 2023
Date : 15th October to 23rd October 2023
Purpose :
This group Durga Saptashati Paath plus Lakshmi Suktam plus Saraswati Paath is the ultimate solution for protecting yourself and your family from evil eyes and negative energies. This is a simple yet effective puja for protection and obstacle removing hence is performed with great devotion and dedication.
---
Durga Saptashati is an often-chanted Hindu religious text, which describes the victory of Goddess Durga over the demon Mahishasura. It is the base of Shakti tradition. It is believed that when someone chants this text, all his wishes are fulfilled.At Astroahead, we have brought you a golden opportunity of performing Durga Saptshati Path plus Lakshmi Suktam plus Saraswati Path for Protection and obsectles removal for self and family in NavratriWhy to do Durga Saptashati Path: It removes anger, greed and jealousy
It brings success in court cases
Eradicate hurdles and obstacles in life
It helps in achieving gain in business and material comforts
It triggers development of personality and character
This puja helps release stress and bring tranquillity in life
Eradicate all kinds of negative energy, evil spirits and ghostsDurga Saptashati is a very powerful text and a small mistake can bring adverse effects to you and your family. Therefore, it is advised that it should be performed by expert pandits. At Astroahead, we ensure that the puja is done by the experts on your behalf adhering to all the vedic rituals.When you order a puja, we will provide you a link through which you can watch the live puja virtually. Once the puja is done, Prasad will be sent to you through courier at the provided address.Prasad will include: Mata ki Chunri
Mata ki Mauli ( a sacred thread)
Mata ka Khazana (it has to be kept in locker or purse)
Durga Chalisa
Disclaimer:Astroahead neither represents the temple authorities or its trustees nor are the manufacturer/seller of Prasad products, but is solely a platform which connects you with certain individuals on your behalf. Accordingly, Astroahead makes no representation or warranties of any kind express or implied as to the execution of the orders at the Temple or the quality or delivery of Service.To the full extent permissible by applicable law, Astroahead disclaims all warranties, express or implied, including, but not limited to the warranties of quality, service on fitness for a particular purpose.

---
Important Facts
The prayers and stotras in Durga Saptashati Paath, Lakshmi Suktam and Saraswati Paath are very powerful hence it must be performed with a lot of concentration and devotion. Also, it is advised that the puja must be performed in the presence of expert pundits and as per the rules mentioned in the holy scriptures.
Our Promises
We take utmost care to ensure that your devotion and reverence reaches God in its true spirit.
Steps we take:
Ensure that the Puja is performed by qualified and experienced pundits only.
Make sure that Puja is performed according to Vedic rituals.
Make use of superior quality 'Samagri' to perform the Puja.
Take Utmost care that the Puja is performed at the correct time (Mahurat) for best results.
Provide support and guidance to our clients at every step.
---
Reviews Kapil Kansal
After I came to know about the puja that would get me out of the ill effects, we started performing this puja at our home every year. Thank you. Rao Mukherji
I was working very hard but wasn't able to achieve success, and then I came to know about the rituals that are supposed to be followed. Now, I see a change in my career after performing this puja. Akshara Patil
The puja has really brought in peace and contentment at home. We have started experiencing positivity. Mitali Chaturvedi
After we got the puja performed the court case which was prolonged for years came into our favor. Rani Sachdeva
I was going through some unknown fear but the puja which I got it done from this site has relieved me a lot from the fear.
---