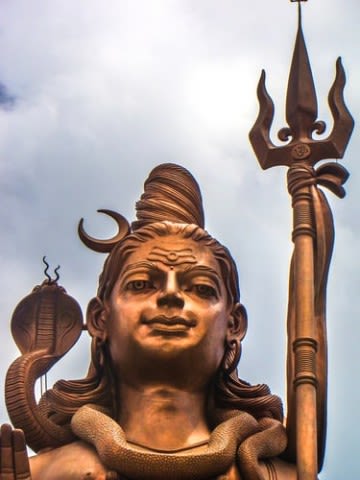 Get all your wishes fulfilled by performing Rudrabhishek in Baba Baidyanath Jyotirlinga on Mahashivratri
₹3100 | $51
Get all your wishes fulfilled by performing Rudrabhishek in Baba Baidyanath Jyotirlinga on Mahashivratri
Purpose :
Baba Vaidyanath Jyotirlinga is most glorified among twelve Jyotirlingas. Thousands of devotees come here every day. Every day about one lakh devotees perform Jalabhishek and Rudrabhishek on Jyotirling in Sawan. By offering Rudrabhishek on Mahashivratri in Baba Vaidyanath Jyotirlinga, all the problems related to business, family, politics, and health are removed.

---
Key Puja Insights
Baidyanath Dham located in the Deoghar district of Jharkhand is different from all the twelve Jyotirlingas. The biggest feature of this temple is that it has 'Panchshul' on its top, but not Trishul. This Panchshul has been considered as a protective shield. On the day of Mahashivaratri, a new alliance is made of Lord Shiva and Goddess Parvati. Thousands of devotees gather here to get two pieces of old red cloth with knots. The importance of worshiping this Jyotirlinga has also been told in Shiv Puran. The Panchshul here is said to represent a human body made of five elements - Kshti, Jal, Pawlak, Gagan, and Samir. Getting the Rudrabhishek done here on the day of Mahashivratri fulfills every wish of the devotees.

---
Benefits of puja
Mentioned below are the benefits of offering Rudrabhishek in Baba Baidyanath Jyotirlinga on Mahashivratri
Rudrabhishek in Baba Baidyanath Jyotirlinga on Mahashivaratri eliminates incurable diseases
A devotee attains home and vehicle
The devotee gets immense wealth
It offers good financial condition to the devotee
Brilliant children are obtained
Family life also becomes pleasant
There will be progress in the field of work
---
What's Included
Rudrabhishek should be done with the help of an experienced Hindu Pandit in Baba Baidyanath temple on the holy occasion of Mahashivratri. To attain accurate results of Rudrabhishek, chanting of Rudrabhishek mantras should be done correctly.

---
---
Important Facts
According to the legendary story, Dashanan Ravana was doing penance on the Himalayas to please Lord Shiva. He was cutting his head one by one and offering it to Lord Shiva. After offering 9 heads, when Ravana was going to offer the 10th head, Lord Shiva appeared and asked him to ask for a boon. Then Ravana asked for a boon to take 'Kamna Linga' to Lanka. Also, Ravana expressed his wish that Lord Shiva should leave Kailash and stay in Lanka. Mahadev fulfilled his wish, but also placed a condition. He said that if you put Shivling anywhere on the way, then I will stay there again and will not wake up. Ravana accepted the condition.
Here, all the gods got worried as soon as they heard of Lord Shiva leaving Kailash. All went to Lord Vishnu to solve this problem. Lord Vishnu asked Varun Dev to enter Ravana's stomach through Achman. Therefore, when Ravana walked towards Sri Lanka along with Shivling, he wanted to go for Urination when he was near Deoghar. In such a situation, Ravana gave Shivling to a cowherd and went to take a short rest. It is said that Lord Vishnu was in the form of a cowboy named Baiju. This pilgrimage place is also famous with both the names Baijnath Dham and Ravneshwar Dham. According to the mythological texts, Ravana kept on urinating for many hours which is still in Devghar as a pond. Here Baiju installed the Shivling on earth.
Our Promises
We take utmost care to ensure that your devotion and reverence reaches God in its true spirit.
Steps we take:
Ensure that the Puja is performed by qualified and experienced pundits only.
Make sure that Puja is performed according to Vedic rituals.
Make use of superior quality 'Samagri' to perform the Puja.
Take Utmost care that the Puja is performed at the correct time (Mahurat) for best results.
Provide support and guidance to our clients at every step.
---
Reviews Trilochan Singh
Thank you for performing puja on behalf of me. I can see my health improving day by day. Kapil Kansal
After we got the puja performed the court case which was prolonged for years came into our favor. Rao Mukherji
After I came to know about the puja that would get me out of the ill effects, we started performing this puja at our home every year. Thank you. Rani Sachdeva
I was going through some unknown fear but the puja which I got it done from this site has relieved me a lot from the fear. Ajay Gupta
I didn't know the importance of puja, thank you for sharing the wonderful benefits of performing the same. We will continue to follow this ritual.
---