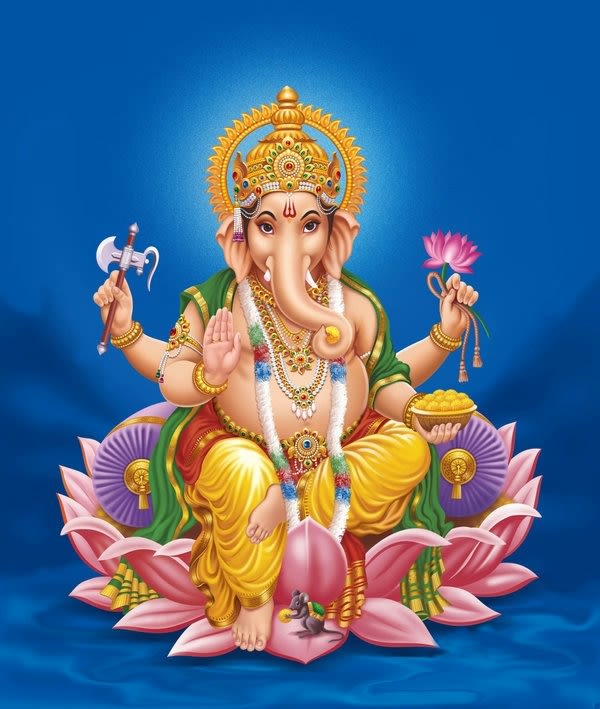 Ganapathi Homam
₹3658 | $61
Ganapathi Homam
Purpose :
Ganapathi Homam is one of the ways to appease Lord Ganesha so that one can have a cheerful and prosperous life. Also, this Homam is specially performed when an individual is going through Ketu Dosha. People perform Ganapathi Homam at home on the day of their house-warming ceremony or when they are about to start new ventures.
---
Lord Ganesha is always worshipped before starting any Pooja or Homa and on all auspicious occasions. Lord Ganesha is also known as 'Vigneshwara' [vigna + Eswara] which means the lord who removes all obstructions (Vighna). Lord Ganesha or Mahaganapathi is believed to remove obstacles not only in the material world but also in one's spiritual progress. Mahaganapathi is also worshipped as a very important deity for Kundalini awakening and Kundalini rise, which is the first step in self-realization. The Mahaganapathi homam is performed by people desiring progress in various material pursuits as well as those seeking liberation and spiritual awakening.
Ganapathy Homam should be performed in the early morning and Poornahuthi to be offered during sunrise. To perform Ganapathy Homam the following materials are required – Ghee, Modhaka (a kind of sweet prepared with coconut, jaggery and rice flour or wheat flour), durva (a kind of grass). The Ahuti / offering into the fire is called Ashta Dravya which is a mixture of the following eight materials – 1.Coconut, 2.Banana, 3.Honey, 4.Sugarcane, 5.Ghee, 6.Modhaka, 7.Jaggery, 8.Puffed rice.
The detailed procedure for the Homam is now available in our site in multiple Indian scripts (Thanks to Aksharamukha transliterator). Please see the links below for the pdf file of your choice:
While it is good to follow the procedure faithfully, what is even more important to offer ones "Ego" to be melted into the sacred fire. Complete devotion and single-minded focus on deity/mantra/procedure and burning one's ego leads to full satisfaction and peace on performing the Homam.
In this Homam, Lord Ganesha or Ganapathi is worshipped. This homam is performed before the starting of any auspicious activity. This homam is performed to invoke the blessings of Lord Ganesha.
He is believed to bring victory and harmony in the life of the devotees by removing all the obstacles from their path. Devotees also believe that he eradicate negative energies and safeguard from troubles and misfortunes. People generally perform this homam before any function, ceremony or religious event.
Whats Included
List of Dos and Don'ts that needs to be followed before and during the homam
Prasad (Panchmeva and Holy Ash) will be Courier after the Puja
Disclaimer:
To the full extent permissible by applicable law, Astroahead disclaims all warranties, express or implied, including, but not limited to the warranties of quality, service on fitness for a particular purpose.
Astroahead neither represents the temple authorities or its trustees nor are the manufacturer/seller of Prasad products, but is solely a platform which connects you with certain individuals who shall perform puja ('Service') on your behalf. Accordingly, Astroahead makes no representation or warranties of any kind express or implied as to the execution of the orders at the Temple or the quality or delivery of Service.

---
Important Facts
Ganapathi Homam Cost
The cost of performing Ganapathi Homam may vary between Rs 1000 to Rs 3000 based on the city. It includes the cost of the materials required for homam and the dakshina of the pandit performing the puja.
Our Promises
We take utmost care to ensure that your devotion and reverence reaches God in its true spirit.
Steps we take:
Ensure that the Puja is performed by qualified and experienced pundits only.
Make sure that Puja is performed according to Vedic rituals.
Make use of superior quality 'Samagri' to perform the Puja.
Take Utmost care that the Puja is performed at the correct time (Mahurat) for best results.
Provide support and guidance to our clients at every step.
---
Reviews Ajay Gupta
Thank you for performing puja on behalf of me. I can see my health improving day by day. Rani Sachdeva
I was facing a lot of difficulties in my life and I didn't know what to do. I was not aware of the puja that was supposed to be performed, thanks for guiding us about the puja. Akshara Patil
I was working very hard but wasn't able to achieve success, and then I came to know about the rituals that are supposed to be followed. Now, I see a change in my career after performing this puja. Mitali Chaturvedi
I was going through some unknown fear but the puja which I got it done from this site has relieved me a lot from the fear. Trilochan Singh
After we got the puja performed the court case which was prolonged for years came into our favor.
---