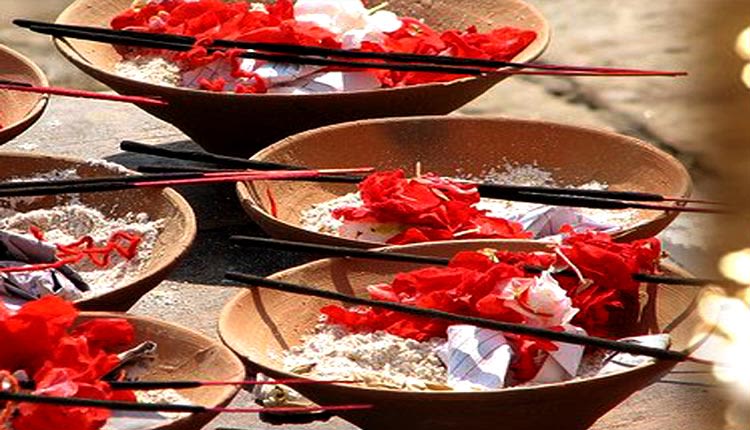 Narayan Bali - For Known Ancestral Pitra Dosh Shanti at Gaya
₹11000 | $172
Narayan Bali - For Known Ancestral Pitra Dosh Shanti at Gaya
Purpose :
Narayan Bali is advised in situations of unnatural deaths of ancestors. When a person leaves this world because of unnatural deaths like murder, suicide, road accidents or sudden death; their plans and wishes remain unexecuted. So, they start troubling their offsprings and remind them about their presence. Hence, this ritual is the effective solution to come out of this trouble.
Also, Narayan Bali is performed if Rahu and Chandra are in the unfavourable position in one's horoscope. It is also the best way to reduce the ill effects of Saturn when it is in nakshatras like Anuradha, Pushya and Uttarabadra.
---
Importance of performing Narayan Bali
Narayana Bali is performed to please the unsatisfied wishes of the ancestor's souls which are trapped in this world.
Narayan Bali Puja is nothing but offerings to Lord Vishnu through prayers to appease Lord Narayan for unnatural deaths of ancestors.
Narayana Bali is done to get rid of the ancestral curse (Pitru dosh /Pitru Shaap).
The procedure
An artificial body mostly made of wheat flour is used.
Mantras are used to invoke such souls who are having certain wishes remain attached.
The ritual makes them possess the body and the funeral frees them to another world.
What is included?
Individual Puja
Sankalp
Brahmin Bhojan
Dakshina
Who should perform this puja?
People who are facing problems like bhoot pishach badha and are unsuccessful in business.
When unnecessary expenses crop up or the money is wasted or improperly used.
Family members are going through prolonging health problems
Those who are going through educational hindrances, marriage problems, accidental deaths.
Suffering from any kind of curse (shraap).

Benefits of performing Narayan Bali Puja
One can get rid of inherited curse and all obstacles.
All bad dreams & hindrances will be chased away.
This is the best answer for all problems such as marriage & childbirth delays, financial troubles, illness etc.
It would allow our ancestors to rest in peace and one can be secured of their blessings.
---
Important Facts
One can find the importance of Narayan Bali in holy scriptures like Garuda Purana, Skanda Purana, Dharma Sindhu, and Padma Purana. In this ritual, a replica of the body is made using wheat flour and powerful mantras are chanted to invoke the souls having unfulfilled wishes. This puja will give them the body and funeral is done to free them from their unaccomplished desires. The puja is also performed to overcome the Sarpa Hatya Shaap that is a curse of killing the snake.
Our Promises
We take utmost care to ensure that your devotion and reverence reaches God in its true spirit.
Steps we take:
Ensure that the Puja is performed by qualified and experienced pundits only.
Make sure that Puja is performed according to Vedic rituals.
Make use of superior quality 'Samagri' to perform the Puja.
Take Utmost care that the Puja is performed at the correct time (Mahurat) for best results.
Provide support and guidance to our clients at every step.
---
Reviews Rao Mukherji
I really thank you for chanting the mantra on behalf of us. We have a sense of satisfaction after this mantra jaap. Mitali Chaturvedi
I was working very hard but wasn't able to achieve success, and then I came to know about the rituals that are supposed to be followed. Now, I see a change in my career after performing this puja. Trilochan Singh
I didn't know the importance of puja, thank you for sharing the wonderful benefits of performing the same. We will continue to follow this ritual. Akshara Patil
After we got the puja performed the court case which was prolonged for years came into our favor. Kapil Kansal
The puja has really brought in peace and contentment at home. We have started experiencing positivity.
---