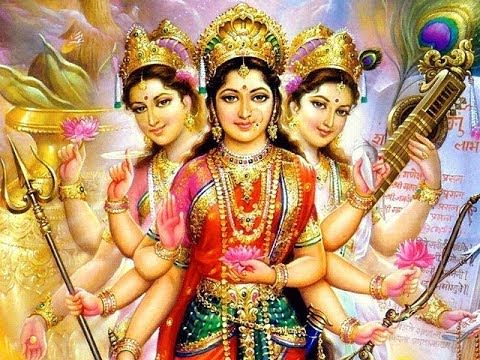 Durga Lakshmi Saraswati Homam: 15th October to 23rd October 2023
Date : 15th October to 23rd October 2023
₹3658 | $61
Durga Lakshmi Saraswati Homam: 15th October to 23rd October 2023
Date : 15th October to 23rd October 2023
---
Maa Durga or Durga Devi is considered as a powerful deity who has the powers to resolve all the troubles from a person's life. Also, Lakshmi Devi is considered as the goddess of wealth, light and fortune. Along with this, Saraswati Devi is the deity of intelligence, increases your memory power and other soft skills. Performing this homam helps in getting all the required talent or quality to get a job and get the blessing of the Devis to have a blissful life.
When these goddesses are worshipped together, a person gets wealth, success and luck in all the aspects of life This homam can be performed on Ashtami, Navami or Fridays to seek maximum results. One can also choose a date according to his Janma Nakshatra

This homam is performed by invoking Durga, Lakshmi and Saraswati Devi followed by the chanting Mantras dedicated to all the three Devis and then the homam is performed as per shastras.
Key Insights:
Helps in clearing obstacles in your life.
Person searching for job will get all the positive force helping him.
Done on Fridays or any other auspicious day based on the janma nakshatra.
Main Deity: Goddess Durga, Lakshmi, and Saraswati.
White Mustard is the main ingredient used for the homam.
Benefits:
A person secures a good job and attains high financial status, and is empowered with high self-esteem.
All the bad or the Malefic effects of the planets are minimized or nullified by generating the positive vibrations of this homa.
Mental pressure is relieved and Durga Lakshmi Saraswati Homam improves our wisdom, memory power, focus and our ability to understand tough things.
Durga Gayatri Mantra
Om Katyayanaaya Vidmahe, Kanya Kumari Dhimahi , Tanno Durgi Prachodayaat


Lakshmi Gayatri Mantra
Om Mahadevyai-cha Vidmahe, Vishnu-patnyai-cha Dheemahi , Tanno Lakshmi Prachodayat


Saraswati Gayatri Mantra

Om Vaakdevyai-cha Vidmahe , Brahma-patnyai-cha Dheemahi , Tanno Vaani Prachodayat


Whats Included

List of Dos and Don'ts that needs to be followed before and during the homam
Prasad (Panchmeva and Holy Ash) will be Courier after the Puja
Disclaimer:
Astroahead neither represents the temple authorities or its trustees nor are the manufacturer/seller of Prasad products, but is solely a platform which connects you with certain individuals who shall perform puja ('Service') on your behalf. Accordingly, Astroahead makes no representation or warranties of any kind express or implied as to the execution of the orders at the Temple or the quality or delivery of Service.
To the full extent permissible by applicable law, Astroahead disclaims all warranties, express or implied, including, but not limited to the warranties of quality, service on fitness for a particular purpose,

---
Important Facts
Our Promises
We take utmost care to ensure that your devotion and reverence reaches God in its true spirit.
Steps we take:
Ensure that the Puja is performed by qualified and experienced pundits only.
Make sure that Puja is performed according to Vedic rituals.
Make use of superior quality 'Samagri' to perform the Puja.
Take Utmost care that the Puja is performed at the correct time (Mahurat) for best results.
Provide support and guidance to our clients at every step.
---
Reviews Kapil Kansal
I was going through some unknown fear but the puja which I got it done from this site has relieved me a lot from the fear. Rani Sachdeva
Thank you for performing puja on behalf of me. I can see my health improving day by day. Ajay Gupta
After I came to know about the puja that would get me out of the ill effects, we started performing this puja at our home every year. Thank you. Mitali Chaturvedi
After we got the puja performed the court case which was prolonged for years came into our favor. Rao Mukherji
I didn't know the importance of puja, thank you for sharing the wonderful benefits of performing the same. We will continue to follow this ritual.
---