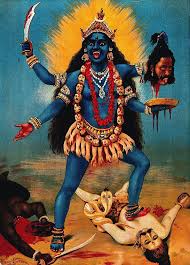 Das Mahavidya Anushthan
₹5100 | $72
Das Mahavidya Anushthan
Purpose :
Das Mahavidya Anushthan is performed with the Das Mahavidya puja to invoke the blessings of all the ten forms of Maa Kali or Shakthi for the fulfillment of our desires and to defeat our enemies. It is done to attain moksha from the sins of our past life and the afterlife.
---
Key Puja Insights
In Sanskrit, "Das" means ten, "Maha" means great and "Vidya" means wisdom. Das Mahavidyas are Wisdom Goddesses. Maa Kali is the first out of the ten Mahavidyas and the rest of them are her different forms. Each Goddess stands for her own individual quality and blessings which is beneficial for us. Das Mahavidya or Ten Goddesses stand for understanding, knowledge, enlightenment, and nirvana.
---
Benefits of puja
Das Mahavidya Puja benefits include:
· You will be blessed with wealth and prosperity by all the ten forms of Shakti
· All problems related to money like debts will be resolved
· Career-wise an improvement will be seen
· Business people will see profits in their daily routine life
· Students will succeed in gaining education for their own betterment
· People suffering from health issues will get relief from those ailments
· In general, health prospects will be good for those people also who do not have any issues
· Protection against the conspiracies of your enemies is assured by performing this puja
· You will be able to overcome the problems created due to planetary movements in your horoscope
· It brings in spirituality and auspiciousness in the household
· Provides confidence to face all that life throws at you with courage
· You will be protected against sudden accidents and black magic
---
What's Included
Das Mahavidya Anushthan begins with Ganesh Puja followed by Navagraha Puja, invoking and worshipping major Gods and Goddesses, placement and worship of Das Mahavidya yantra, chanting the individual mantras pertaining to each individual form of the Mahavidya and performing the Homam with the Sankalpam with the devotee's name.
---
---
Important Facts
Each person's life is guided by the planets and their position, transitions, and movements in their horoscope. These planetary movements can have malefic effects on our lives due to its motion. Das Mahavidya Yantra is very beneficial to overcome these malefic effects of the planets in our life. It holds together the powers of all the ten mahavidyas and removes negativity giving rise to peace and prosperity. Place this yantra in the puja room or your house to gain maximum benefits of their power.
The ten forms of Shakthi are: Kali, Tara, Tripura Sundari, Bhuvaneshwari, Bhairavi, Chinnamasta, Bagalmukhi, Dhumavati, Matangi, and Kamala. Each of the Goddesses has a dedicated mantra in their name to seek their individual blessings for a complete spiritual experience.
Our Promises
We take utmost care to ensure that your devotion and reverence reaches God in its true spirit.
Steps we take:
Ensure that the Puja is performed by qualified and experienced pundits only.
Make sure that Puja is performed according to Vedic rituals.
Make use of superior quality 'Samagri' to perform the Puja.
Take Utmost care that the Puja is performed at the correct time (Mahurat) for best results.
Provide support and guidance to our clients at every step.
---
Reviews Rao Mukherji
Thank you for letting us know the immense benefit of performing puja. We are organizing it in our home every year. Mitali Chaturvedi
Thank you for performing puja on behalf of me. I can see my health improving day by day. Ajay Gupta
I was working very hard but wasn't able to achieve success, and then I came to know about the rituals that are supposed to be followed. Now, I see a change in my career after performing this puja. Akshara Patil
I didn't know the importance of puja, thank you for sharing the wonderful benefits of performing the same. We will continue to follow this ritual. Kapil Kansal
The puja has really brought in peace and contentment at home. We have started experiencing positivity.
---