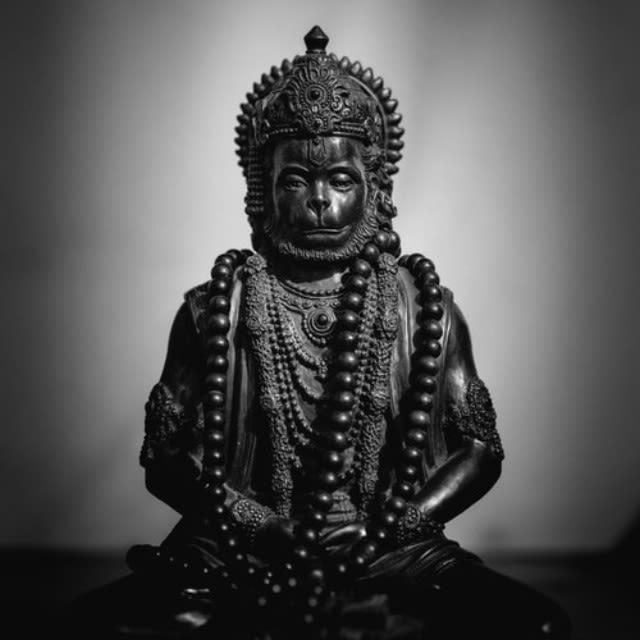 Celebrate Hanuman Jayanti to get rid of the biggest crises of life
₹5100 | $69
Celebrate Hanuman Jayanti to get rid of the biggest crises of life
Purpose :
Worshiping Lord Hanuman is very simple and easy. Worshipping Lord Hanuman provides freedom from the wrath of any kind of evil planets. Even Saturn can't harm the hair of the devotee who comes in the shelter of Lord Hanuman. All kinds of diseases, fears, and crises can be overcome by doing the worship of Lord Hanuman on the day of Hanuman Jayanti.

---
Key Puja Insights
On Rama Navami, after celebrating the birth anniversary of Maryada Purushottam Lord Rama, the birth anniversary of his supreme devotee Lord Hanuman is also celebrated who is also known as Bajrang Bali. This time Hanuman Jayanti arrived on 24th April. Every year, the full moon of Chaitra month is celebrated as the birth anniversary of Hanuman, the devotee of Rama. It is considered a very auspicious day to please Lord Hanuman who is considered Ajar and immortal.

---
Benefits of puja
Read the benefits of celebrating Hanuman Jayanti given below:-
Worshiping Lord Hanuman on Hanuman Jayanti removes the biggest crisis.
With the blessings of Shri Hanuman Ji, there will be happiness and prosperity for the whole year.
Worshiping Lord Hanuman completes every spoiled work
The devotee who performs Hanuman Jayanti attains special blessings of Lord Hanuman
Lord Hanuman bestows his devotees with courage and strength
---
What's Included
Some people observe fast on Hanuman Jayanti. Those observing fast on this day also have to follow special rules. The fasting person has to follow the rules of celibacy a day in advance. On the birth anniversary, get up and bathe in the Brahma Muhurta and offer the prayer to Lord Sun. After that, by installing the idol of Lord Hanuman, duly worship and resolve to fast. Recite Hanuman Chalisa and Bajrang Baan on Hanuman Jayanti. On this day, you can also recite some special Chaupaiya of Sundar Kand and offer jaggery as prasad to Hanumanji. On this day, sweet bread is also offered in some homes to Lord Hanuman.

---
---
Important Facts
The seven Chiranjeevis mentioned in the scriptures are Ashwatthama, Bali, Vyasa, Hanuman, Vibhishana, Kripacharya, and Lord Parashurama. It is believed that these are immortal souls that still exist among us on earth. In Kali Yuga, Lord Hanuman is worshiped the most in these seven Chiranjeevias. There is hardly any corner of the country where Lord Hanuman is not worshiped. Among all the gods, Hanuman is the deity to whom we can please quickly.

Our Promises
We take utmost care to ensure that your devotion and reverence reaches God in its true spirit.
Steps we take:
Ensure that the Puja is performed by qualified and experienced pundits only.
Make sure that Puja is performed according to Vedic rituals.
Make use of superior quality 'Samagri' to perform the Puja.
Take Utmost care that the Puja is performed at the correct time (Mahurat) for best results.
Provide support and guidance to our clients at every step.
---
Reviews Kapil Kansal
I didn't know the importance of puja, thank you for sharing the wonderful benefits of performing the same. We will continue to follow this ritual. Rao Mukherji
I was working very hard but wasn't able to achieve success, and then I came to know about the rituals that are supposed to be followed. Now, I see a change in my career after performing this puja. Trilochan Singh
I was going through some unknown fear but the puja which I got it done from this site has relieved me a lot from the fear. Akshara Patil
After I came to know about the puja that would get me out of the ill effects, we started performing this puja at our home every year. Thank you. Rani Sachdeva
Thank you for performing puja on behalf of me. I can see my health improving day by day.
---