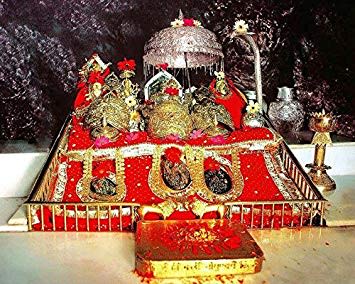 Bhaint & Prasad Offerings at Vaishno Devi: 15th October to 23rd October 2023
Date : 15th October to 23rd October 2023
₹1500 | $24
Bhaint & Prasad Offerings at Vaishno Devi: 15th October to 23rd October 2023
Date : 15th October to 23rd October 2023
Purpose :
People on pilgrimage to Vaishno Devi Temple often carry holy materials to offer it to the Goddess and seek her blessings. According to the religious scriptures, Maa Vaishno Devi can be pleased by Bhaint and Prasad offering. By doing this offering, the performer and his family will be blessed by the deity and will witness growth in all aspects of life.
---
Vaishno Devi, fondly called Mata Rani and Vaishnavi, is the manifestation of Maa Shakti. This Divine mother, popularly known as Maa Vaishno, is a combined avatar of three Shakti, i.e. Maa Saraswati, Maa Lakshmi and Maa Kali.
Maa Vaishno Devi was born to destroy the demons from the face of the earth. Maa Vaishno Devi Mata Temple in Jammu (India) is one of the most sought-after and much-visited temples in India.
At Astroahead, we understand the importance of seeking blessings from Vaishno Devi Mata and therefore, bring you the opportunity to offer your bhaint and Prasad at the Maa Vaishno Devi Temple in Katra(Jammu). Please note, the Bhaint and prasad will be offered at Vaishno Devi Mata Mandir.
Benefits of Bhaint and Prasad Offerings at Vaishno Devi are:
It brings prosperity in the lives of the devotees
It eradicate the financial troubles
It ensures health, wealth and prosperity
It ensures harmonious relationships
Adhering to all rules and regulations, these offerings will be made at Maa Vaishno Devi by our Representative on your behalf.
Clients ordering the Bhaint offerings will be sent the Prasad by courier once our representatives return back from Maa Vaishno Devi shrine.

The Prasad will include-
Bhaint offered at Maa Vaishno Devi Temple(it will include a small basket containing Phooliyn, Makhane, Akhrot, pieces of dry apple, a piece of coconut etc. )
Mata ki Chunri – to be kept in your locker or office bag ensuring no evil forces/eye harm you.
Mata ka Khazana (to be kept in your locker or purse to gain divine luck)
Mata ki Mauli (sacred tread to be tied on right wrist of males and on left wrist of females once you receive the Prasad)

Disclaimer:
Astroahead neither represents the temple authorities or its trustees nor are the manufacturer/seller of Prasad products, but is solely a platform which connects you with certain individuals who shall offer Bhaint & Prasad ('Service') at Vaishno Devi ("Temple") on your behalf. Accordingly, Astroahead makes no representation or warranties of any kind express or implied as to the execution of the orders at the Temple or the quality or delivery of Service.
To the full extent permissible by applicable law, Astroahead disclaims all warranties, express or implied, including, but not limited to the warranties of quality, service on fitness for a particular purpose.
---
Important Facts
There are many mythological stories that explain us about the incarnation of Maa Vaishno Devi. In Treta Yuga, when evil acts of the demons was at its peak; the tridevis that is Mahadevi, Maha Lakshmi and Maha Saraswati combined their divine energies and created a powerful deity that is Vaishno Devi. Once all the demons were killed Maa Vaishno Devi was requested to permanently live on earth and keep evil energies away forever.
Our Promises
We take utmost care to ensure that your devotion and reverence reaches God in its true spirit.
Steps we take:
Ensure that the Puja is performed by qualified and experienced pundits only.
Make sure that Puja is performed according to Vedic rituals.
Make use of superior quality 'Samagri' to perform the Puja.
Take Utmost care that the Puja is performed at the correct time (Mahurat) for best results.
Provide support and guidance to our clients at every step.
---
Reviews Trilochan Singh
Thank you for letting us know the immense benefit of performing puja. We are organizing it in our home every year. Mitali Chaturvedi
After we got the puja performed the court case which was prolonged for years came into our favor. Ajay Gupta
I really thank you for chanting the mantra on behalf of us. We have a sense of satisfaction after this mantra jaap. Kapil Kansal
I was going through some unknown fear but the puja which I got it done from this site has relieved me a lot from the fear. Rao Mukherji
Thank you for performing puja on behalf of me. I can see my health improving day by day.
---