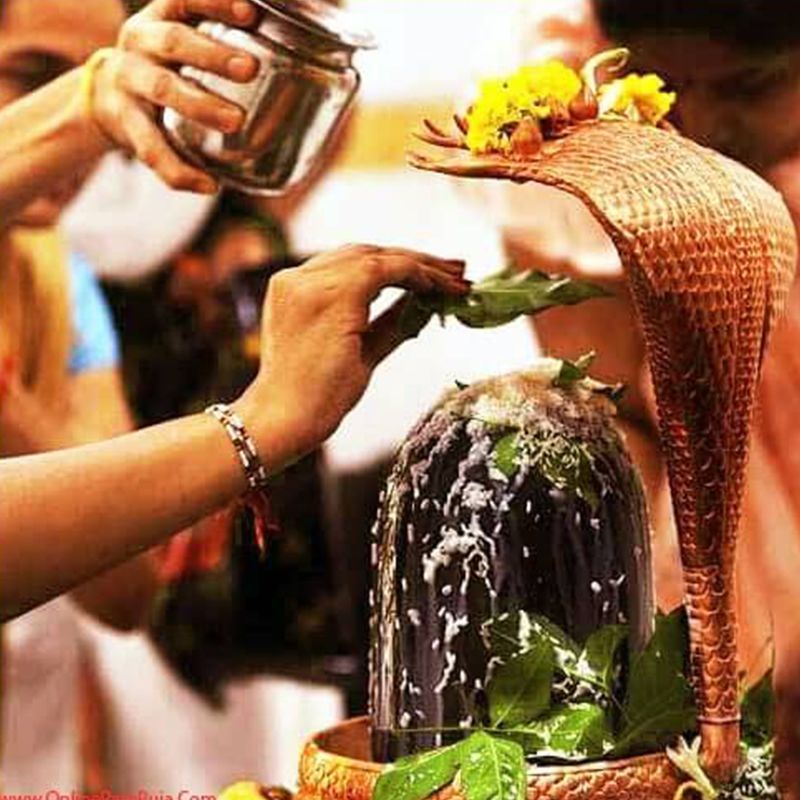 21 maala Maha Mrityunjaya Jaap with Rudrabhishek for overall prosperity on Maha Shivratri
₹11000 | $262
21 maala Maha Mrityunjaya Jaap with Rudrabhishek for overall prosperity on Maha Shivratri
---
Maha Shivratri is celebrated by worshipping Lord Shiva and is considered as a favourable occasion in Hindu culture. Devotees with a lot of zeal and enthusiasm offer prayers on this day to Lord Shiva. It is said that one who worships Lord Shiva with a true heart and has a belief in his eternal power, could be relieved of all sins would walk on the path of salvation(an end to the cycle of life and death).
On this day of Maha Shivratri the universal spiritual energy that is produced by positive planetary positions would be at its peak, hence this day is considered as an auspicious day to worship Lord Shiva. Astroahead has come up with 21 maala Maha Mrityunjaya Jaap with Rudrabhishek puja to pacify Lord Shiva and be blessed by him.
Rudrabhishek:
Lord Shiva is known by many names. He is also acknowledged as Rudra, and hence, the Abhishek performed is called Rudrabhishek. By chanting the Vedic mantras, the Shiv Lingam is offered water, milk and other divine materials. Rudrabhishek is believed to be the most gratifying to Lord Shiva and be blessed by the eternal power.
Maha Mrityunjaya Jaap:
Maha Mrityunjaya mantra is believed to be the most powerful mantras that can change anybody's fortune as per the Hindu culture. In Sanskrit, word Maha means great, Mrityu implies 'death' and Jaya is 'victory'. This mantra acts as a shield against negative vibes and other evil forces. This Maha Mrityunjaya Mantra comprises 34 Aksharas (literally imperishable) or eternal sounds.
The 21 mala Maha Mrityunjaya Jaap along with Rudrabhishek performed on the day of Maha Shivratri brings positivity by,
• reducing the negative effects of the distress moon.
• It ensures positivity and bestows good health.
• Devotees would experience prosperity in their work.
• It takes off all negative vibes caused by supernatural energies.
• it showers good spirit and blesses with a healthy mind and body.
This puja should be carried under the guidance of experts as it involves chanting of powerful mantras that have the power to either make you or completely finish you off. Astroahead ensures that the puja is performed by learned pandits as per Vedic rules and rituals. in addition to this, a link will be sent to you on ordering for a puja that would allow to watch the puja online. Prasad would be delivered to the address provided after the puja gets over.
Prasad comprises:
• A Gold Plated Maha Mrityunjay Yantra
• Rudraksha Mala
• Panchmeva
• Chandan (to be applied on forehead daily)
---
Our Promises
We take utmost care to ensure that your devotion and reverence reaches God in its true spirit.
Steps we take:
Ensure that the Puja is performed by qualified and experienced pundits only.
Make sure that Puja is performed according to Vedic rituals.
Make use of superior quality 'Samagri' to perform the Puja.
Take Utmost care that the Puja is performed at the correct time (Mahurat) for best results.
Provide support and guidance to our clients at every step.
---
Reviews Ajay Gupta
Thank you for letting us know the immense benefit of performing puja. We are organizing it in our home every year. Rao Mukherji
I was facing a lot of difficulties in my life and I didn't know what to do. I was not aware of the puja that was supposed to be performed, thanks for guiding us about the puja. Kapil Kansal
I was going through some unknown fear but the puja which I got it done from this site has relieved me a lot from the fear. Mitali Chaturvedi
After we got the puja performed the court case which was prolonged for years came into our favor. Akshara Patil
Thank you for performing puja on behalf of me. I can see my health improving day by day.
---