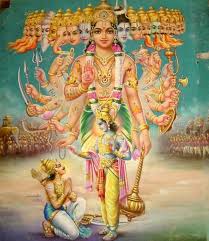 Vishnumantra Jaap
₹101000 | $1553
---
Vishnu is regarded as one of the important Gods of Hindus along with Lord Shiva. People worship and adore both Vishnu and Shiva equally. Just like Lord Shiva, Lord Vishnu also grants boons if prayed with true devotion. He showers all bodily pleasures that is Sukh of Tan (body), Man (our inner being) and Dhan (worldly comforts). Lord Vishnu's full Mantra is chanted for 1.25 lakh times to experience the benefits.
The procedure of performing this Puja:
Puja will be performed as per the Vedic Padhati ie Vedic system.
Firstly, Analysis of the planetary positions and detailed study of the Horoscope of the person for whom the puja has to be conducted will be done. Based on the study puja would be performed.
Step-wise procedures are given below:
Step 1-Swastivachan----First of all Mangaal Gaan i.e. Mantras of Bhagwan Vishnu are chanted.
Step 2-Pooranik Manglacharan----Prayer will be offered to all major Gods that is Brahma and Mahesh.
Step 3-Sankalp------ Tells about the jajmaan i.e. the person who is allowing the Yagna to be done. Also, the importance of Yagna is explained here.
Step 4-Ganesh Pujan-----Ganesh ji the remover of obstacles is invited to the Yagna so that the Yagna is carried on without any hurdles.
Step 5-Kalash Pujan--------Kalash Pujan pplays a vital role in any yagna.
Step 6--Shodash Matrika Pujan-----Shodash means sixteen. All the sixteen Devis are welcomed to the Yagna. These Devis have their own importance in the performance of Yagna.
Step 7: Puniha Aavchan -----Prayer is told for the jajmaan i.e. the person on whose behalf Yagna is being done.
Step 8: Navgraha Pujan----Here, all the nine planets are invited to be part of Yagna and bless the jajmaan.
Step 9: Ksherpaal Pujan----Puja is performed to all the heads of directions. Hindu culture belives that there are 10 directions and no obstacles rise from any direction
Step 10: Sarvato Bhadra Pujan---- Lord Vishnu is invited to the Yagna.
Step 11: Yagna starts----Yagna beging from here. Paath of Vishnu Bhagwan is chanted for 1.25 lakh times.
Step 12: Havan----At the end of the Yagna, Havan is Performed with the same mantra.
Step 13: Aarti----Aarti of Lord is conducted.
Step 14: Tarpan and Margan----These are vital parts of yagna.
Step 15: Brahmin Bhoj----All the Brahmins who have attended the yagna are shown respect on behalf of the jajmaan. They are thanked by giving food and giving them dakshina i.e.money for their efforts and time.
Step 16: Prasada would be sent to you.
Yantra: A Yantra will be given to you which you have to place it in the puja mandir and pray before it every day to get the desired results.
Video Facility: You will be getting a video and pics according to your preference. It could be short videos over whatsapp or longer version uploaded on youtube. Pics will be sent to you over whatsapp. If you can suggest any other modes for sending videos and photos it would be taken care of.
---
Our Promises
We take utmost care to ensure that your devotion and reverence reaches God in its true spirit.
Steps we take:
Ensure that the Puja is performed by qualified and experienced pundits only.
Make sure that Puja is performed according to Vedic rituals.
Make use of superior quality 'Samagri' to perform the Puja.
Take Utmost care that the Puja is performed at the correct time (Mahurat) for best results.
Provide support and guidance to our clients at every step.
---
Reviews Ajay Gupta
I was working very hard but wasn't able to achieve success, and then I came to know about the rituals that are supposed to be followed. Now, I see a change in my career after performing this puja. Rao Mukherji
The puja has really brought in peace and contentment at home. We have started experiencing positivity. Trilochan Singh
I really thank you for chanting the mantra on behalf of us. We have a sense of satisfaction after this mantra jaap. Rani Sachdeva
I was facing a lot of difficulties in my life and I didn't know what to do. I was not aware of the puja that was supposed to be performed, thanks for guiding us about the puja. Mitali Chaturvedi
I was going through some unknown fear but the puja which I got it done from this site has relieved me a lot from the fear.
---